Description
Looking for high-quality, pre-stretched, aluminum screens? You've come to the right place. Baselayr offers a vast selection of aluminum screens, varying in mesh count, frame size, and mesh color.

The advantage of aluminum frames is the durability and longevity they retain. All aluminum frames are constructed of the highest grade aluminum and hand welded in the USA. Aluminum frames will not warp when exposed to water in a dip tank or washout sink. You'll have a flat frame through thousands of prints to come. Aluminum frames are also lightweight which makes shipping less expensive.
BENEFITS
Aluminum frames do not warp when exposed to water, ensuring a flat frame for thousands of prints.

White mesh helps emulsion expose faster, reducing time spent in the darkroom: yellow mesh causes little to no light scatter, which maintains fine details of the design.
With various mesh counts available, printers are able to select the right screen for each unique print job.
PURPOSE OF EACH MESH COUNT
110 MESH COUNT

The 110 mesh count is will lay down a fairly thick layer of ink. This mesh is great for block text letters and larger spot color designs. It's also a recommended mesh for an under base because you will only have to do one pass, which speeds up production.
158 MESH COUNT
158 mesh (previously 156) is great for general-purpose textile printing with basic to semi-fine detail. They will hold a little finer detail than 110 mesh and also work well with thinner inks.
196 MESH COUNT
196 mesh (previously 200) are great for printing more detailed prints that need a thinner layer of ink to be laid down than a 158. They work well with thinner inks and help to keep the inks from flooding onto the garment. Printers that want a softer-hand feel with plastisol ink can use this mesh count to achieve that feel, but it may reduce the ink's opacity.
230 MESH COUNT
The 230 mesh screens are great for printing thinner inks like discharge or water-based. A 230 mesh can hold halftones well while letting more ink through than a 305 mesh could. 
PRODUCT SPECS
Size:

20 x 24 inches

Material:

Aluminum Frame

Pack: 10 Screens
Mesh Available:

110 (80 micron), 158 (64 micron), 196 (55 micron), 230 (48 micron)

Color:

White & Yellow Mesh

Printable Area:

< 14 x 18 in.

Scoop Coater Size:

16 in

Max Squeegee Size:

15 in

Made in the USA
Payment & Security
Your payment information is processed securely. We do not store credit card details nor have access to your credit card information.
Frequently Bought Together
Customer Reviews
96
reviewers would recommend this product
Write a Review
Ask a Question
Screens and shipping
Screens are holding up well, but I can't bring myself to continue to pay 10 dollars for shipping ON EVERYTHING THAT I BUY FROM HERE! Doesn't matter if I bought one 8" squeegee or one pint of paint, ten bucks. Then they send me a box that is 17 times larger than the 8" squeegee followed by 6 feet deep of paper packing. Also I would need to by 50+ screens to get the single sale price that atlas offers, per screen. (16.97$) 20x24 156 mesh also I'm paying less to ship 5 screens with atlas then I'm paying to ship on squeegee from screenprinting.com Please tell me why I should continue to buy my supplies from here, really please respond and let me know.
Threads came loose on one side
Threads came loose on one side after second use. Don't know why, but this is my second attempt at writing a review. The first one never posted.
11/28/2020
Anonymous

United States
I recommend this product
Sent Me A Ripped Screen
Terrible, you guys sent me a ripped screen.
12/01/2020
ScreenPrinting.com
Hey there! Thanks for leaving us a review about your ripped screen! We sincerely apologize for this! I was able to find your order, and will start a case on this so we can get a new screen sent out to you. Again, we apologize for how this was received! I will send you an email once the case is completed. Thank you, Kayli B
09/24/2020
Kati F.

United States
I recommend this product
Love this company
So basically I have zero idea what I am doing but a ton of motivation to learn. Even though I can't find classes because of COVID I have learned so much from reading descriptions on the website and watching Ryonet's YouTube channel. It has cut my learning mistakes in half for sure. Loving all the products. Great quality.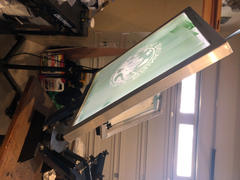 07/12/2020
Trent H.

United States
Screens
I bought 4 of these and they are really sturdy and quality made. The screens are perfectly attached and solid.