Description
With more than 40 years of developing high-quality, affordable presses, the Riley Hopkins brand has sold the most manual presses in screen printing history. It has jumpstarted thousands of printers' careers with presses that are built like race cars. Shift your shop into second gear with the new Riley Hopkins 250 Press.

The 250 has many features that make printing streamlined. Most notable is the addition of tilted micros. The tilted micros ensure screens stay in place during production, minimizing the worries of accidentally bumping the screen out of registration mid-production. The 250 features locking levers, the same as the 300 press. The locking levers make it easier to tighten and loosen registration, enhancing the precision of registration while lessening the stress on your wrists.
Perfect for printers looking to run their production in a garage, spare bedroom, or basement, the press is easy to set up. First off, the press comes to you 90% preassembled. To put together the rest of the press, all you need is one Phillips head screwdriver, two ½" wrenches, and two 9/16" wrenches. That's it. You'll have the press up and running in minutes. Screw the press onto a spare table or bench, or place it on a Riley Hopkins Cart, which holds six screens and has heavy-duty retractable casters for mobility and semi-permanent placement.
Best of all, the 250 can continue being an integral piece of equipment in your shop as you grow. When you're ready to move up into a Riley Hopkins 300 or even automatic, the 250 can be used for smaller orders, overflow jobs, live printing, and more. The 250 will forever be a handy press as you expand your business.
Breakout from the pack with the Riley Hopkins 250 Press.
VIEW THE RILEY HOPKINS EQUIPMENT CATALOG
FEATURES
Heavy Duty Center Chassis Construction for Durability and Strength
Indexing/Rotating Platens w/ Roller Wheel Platen Stop
Durable US Steel Construction
All-Black Press
Powder Coated Finish
Riley 300 Locking Levers
Standard XY Micro Registration
Titled Micros for Better Registration
9/16 Tilt and Off-Contact Control (9/16" ratcheting wrench recommended)
Heavy Duty Springs
Adjustable and Interchangeable Riley Hopkins Wood Platens
Comes 90% preassembled, so you're up and running in a few minutes

Made in USA 🇺🇸
BENEFITS
Tilted micros secure screens in place, reducing the chance of them bumping out of registration during production.
Locking levers make it easy to tighten and loosen registration while enhancing print precision.
The press arrives 90% preassembled, so you're able to get your press up and running quickly.
TECH SPECS
Diameter: 59"
Platen Height: 5.5" (31cm)
Platen Size: 16"x16" w/ Neck
Max Frame Size: 23"x31"
Base Configuration: Bench Mount
Color/Stations: 4 color /1 station
Shipping Weight: 87 lbs

Ships in two boxes
(Base - 19x10x14)
(Head - 44x19x11)
COMPATIABLE ACCESSORIES 
PRODUCT DATA SHEETS
Payment & Security
Your payment information is processed securely. We do not store credit card details nor have access to your credit card information.
Frequently Bought Together
Customer Reviews
Write a Review
Ask a Question
Filter Reviews:
help
customer service
research
YouTube
screen printing
business
micro registration
machine
shirts
questions
07/27/2023
Scott C.

United States
I recommend this product
Great
I've only printing a couple of shirts and I can tell the difference in quality and time it take great buy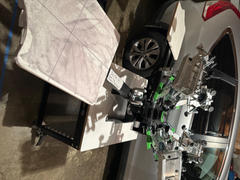 07/28/2023
ScreenPrinting.com
Thank you for the review! The Riley 250 is such an awesome press for shops of any size. Let us know if you have any questions about the press so we can ensure you are getting the most out of your equipment: support@ryonet.com Happy printing! -Samuel
07/25/2023
Ryan G.

United States
I recommend this product
Worth the purchase
Very high-quality, sturdy and pretty simple to put together. When I needed help, the customer service was great! Very happy with my purchase.
07/25/2023
Ryan G.

United States
07/25/2023
Ryan G.

United States
I recommend this product
Worth the purchase
Very high quality and it was simple to put together. Great customer service also!
07/27/2023
ScreenPrinting.com
Ryan -so rad to hear you're happy with your Riley press and the service - we're here to help so please do reach out if you need anything! Happy Printing!!
07/19/2023
Thomas D.

United States
I recommend this product
Riley 250 4/1 Review
Hello and Happy Printing to you all, I purchased my Riley 250 4/1 mid-late last year. This press has made my screen printing journey so much more easier as the press is super dependable. I don't have to worry about tilt or registration and thinking that the press won't hold them. I do regret, however, hesitating about buying the press initially when I looking over presses to purchase; please, don't waste your time as I did, buy this press and you won't regret it. It's durable, sturdy, heavy, reliable, looks, and feel, professional, but most importantly does everything its promise to do, plus super easy to setup and get printing. I hope this review is helpful to someone looking to upgrade their workshop. Happy printing friends!
07/19/2023
ScreenPrinting.com
Thank you for the very kind review! So good to hear that you chose to purchase the 250 and are happy with the results you've been getting! You nailed what the 250 is all about with this review. Happy printing! Send us some of your work: support@ryonet.com