Description
Ryonet loves working with partners who have the same passion for screen printing education that we have!
---
Meet your instructors! - Matt Mirpourian & Miguel Rivera
Pacific North Press is located in Portland, Oregon, an urban and eclectic part of the Pacific Northwest. The print shop formed when two small but formidable Portland print shops found themselves in direct competition with each other. Miguel and Matt had many mutual friends and met them. Day after day they'd be sending quotes out to the same customers and friends. Once they realized that this was the case, they quickly joined forces and formed Pacific North Press. Both Miguel and Matt had a strong desire to print high quality, complex prints and build their respective shops into bigger, automated facilities, so it only made sense to come together to achieve their goals. Miquel and Matt are starting out their second year in this partnership.
The duo truly loves printing. Matt and Miguel enjoy being able to work in an industry of talented artists, interesting businesses, and skilled business folks. Both have spent long hours and late nights making sure their prints were extra perfect while respecting and innovating the craft. Matt and Miguel can't wait to bring new printers into the fold!
Class Times:
Saturday & Sunday: 9 a.m.- 5 p.m.
Class Location:
14 NE Tillamook, Portland, OR 97212
Nearest Airport:
Portland International Airport (PDX)
Hotels Nearby:
Crowne Plaza
1441 NE 2nd Ave., Portland, OR 97232 (503) 233-2401
Shilo Inn - Rose Garden
1506 NE 2nd Ave., Portland OR 97232
The Screen Printing Class Includes:
Blank t-shirts will be provided for you to practice your new knowledge
Lunch for both days (call a week prior for vegetarian options)
Ryonet's digital screen printing class book and materials for note-taking
Most importantly, the skills and knowledge to progress in the industry
Day 1: The 7 steps to the screen printing process are day 1; with a bit of printing in the morning and end of the day
Day 2: Art and using the tips learned last 2 days for printing on the shirts provided

This class is for 16 years of age and up. No minors younger than 16 years of age due to safety requirements and labor laws.
The Screen Printing Class Covers:
Basic artwork flow
Film output options
Choosing the right mesh for your project
Setting up a dark room
Choosing the right emulsion and properly coating your screen
Using a pre-registration template
Properly burning a screen
Screen washout techniques
How to register your job
Proper silk screen printing techniques
Clean-up techniques
Creating artwork using Corel, Accurip, and Separation Studio; Pacific North Press Team uses Adobe
Spot color printing
Four color process (CMYK) printing
Simulated process printing
Foil applications
Discharge printing and mixing
Water-based printing
Discuss printing on paper
Overview of different apparel types
Tips on the business side of screen printing
Cancellation Policy
Once you have paid for your class, refunds are not available. You must contact us no less than 24 hours in advance if you are unable to attend the class you signed up for, we are happy to assist you in rescheduling for a different class at that point. If you do not contact us 24 hours in advance you will be charged a re-booking fee of $50. You may, also, choose to receive in-store credit in the same amount you paid for class tuition, or $50 less (if you did not contact us 24 hours in advance), which you can use towards your next Ryonet purchase. To make arrangements, or to request help, please email us at education@ryonet.com or call us at 1-800-314-6390.
*Classes are subject to change. We will notify you of any updates via email. Please note Ryonet is not responsible for the lost deposit or travel booking fees if class dates change due to unforeseen circumstances.
Payment & Security
Your payment information is processed securely. We do not store credit card details nor have access to your credit card information.
Frequently Bought Together
Customer Reviews
Write a Review
Ask a Question
Filter Reviews:
Matt
experience
screen printing
learning
theory
business advice
anyone
class
excuse
guys
A good starter class
This is a good introduction to manual screen printing. All of the basics are thoroughly covered. Matt is an EXCELLENT teacher. There is a good balance between classroom and hands-on instruction. Also, the legal and environmental aspects are covered, which is important. Thank you.
03/20/2020
Trevor C.

United States
Highly Recommend!
This class is a solid investment for anyone looking to learn or dial in the basics of screen printing. Matt and Jesse were extremely polite and helpful making for a very pleasant experience. It's obvious that they are passionate about this industry and are happy to provide you with the tools needed to succeed.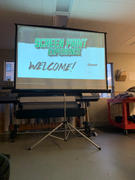 03/21/2020
ScreenPrinting.com
Hey Trevor! We're proud to be a part of your journey. Happy to read the stoke is high after taking our SPE class. Thanks for your review! Please let us know how we can continue to be a part of your success. -Ronald 1-800-314-6390
Expert Knowledge
I travelled from Sydney, Australia to attend the course and I have to say, the Portland screen printing experience was amazing. I found the course to be packed with hands-on practical learning and plenty of theory and operational business advice. Matt, and the guys from Pacific North Press shared their incredible screen printing knowledge, their years of experience, and the techniques required to be an expert in the field of screen printing. Matt was able to answer and provide guidance to all of the questions the class had. I would not hesitate to recommend taking this class. It was also a good excuse to visit Portland, Oregon.
Excellent experience
Screen Print Experience Class Portland, OR was excellent! Questions asked and answered extremely well. They were generous in spirit and with information to help students feel empowered and informed. Lots of hands on practice which was super helpful. Fantastic course!