Description
Wilflex™ Epic Liquid Silver is a non-phthalate, opaque vibrant metallic shine ink that can be used with both flat and high density graphics. Epic Liquid Silver can be used straight out of the container or mixed with other Wilflex Epic inks.
Features:
Super-shine metallic ink.
Can be used straight out of the container.
Excellent stretch properties.
Epic Liquid Silver can be printed on all colored fabrics with dark colored fabrics giving best results.
WILFLEX™ COMPLIANCE INFORMATION
Curing Instructions:
Flash at 220¡F (105¡C) for 3 - 5 seconds and cure at 320¡F (160¡C).
Clean Up:
Ink degradent or press wash.
Storage Information:
Store at 65-90¡F (18-32¡C), avoiding direct sunlight. Use within one year of manufacturing date.
Payment & Security
Your payment information is processed securely. We do not store credit card details nor have access to your credit card information.
Frequently Bought Together
Customer Reviews
Write a Review
Ask a Question
Filter Reviews:
container
underbase
shirts
order
hands
Portland
gallon
game changer
heat press
base
Flows awesome and easy to work with!
This has been an amazing ink to work with! I ordered gold and silver for a customer order and am amazed how well this ink flows and is easy to use. It does not need an under base and works great by itself on a dark or light garment!
05/18/2022
Tamar M.

United States
I recommend this product
The best silver
This ink is so good, im so sad they are discontinuing it. It's the perfect silver foil look without being too heavy once it's cured. Very durable and easy to cure.
06/01/2022
ScreenPrinting.com
Hi Tamar, Thanks for leaving the Wilflex Epic Liquid Silver some love before it leaves. We are sad to see it go too but we are also VERY excited to welcome the new FN-INK Metallic Silver! Happy printing!
02/17/2022
Brandie F.

United States
I recommend this product
Wilflex Epic Liquid Silver Plastisol Ink
The last few years now I have used the International Coatings brand of Metallic Silver Plastisol Ink (only brand I could get my hands on!) and have never really been a huge fan of this ink! It's super thick and difficult to use on my manual press. While it finishes great, overall it's just a difficult ink to use & I would always dread printing with it....Well, I recvied an order from our local Track Coach for 127 t shirts w/ metallic silver ink; so on a whim I did a little online research and found the Wilflex brand and decided to give it a try..It is a complete game changer!!!!! It's a little thick in the container when stirring but once on the press; it prints just like any other plastisol ink....super easy to use! We used a light blue shirt for the project and needed no underbase. Two passes w/ the squeegie and it was done! Drying is the same as w/ any metallic ink; so allow for extra time for drying but honestly, I'll never go back to International Coatings Metallic Silver after using this!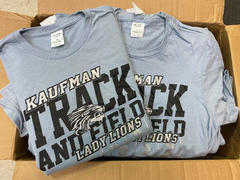 02/18/2022
ScreenPrinting.com
Hi Brandie! Thank you for taking the time to leave us your feedback on an awesome review. We really appreciate you sharing your experiences with the two inks and sharing pictures! We are so glad the Wilflex Silver Liquid was the one for you! Keep on Powering the PRINT!
09/01/2020
Rj

United States
I recommend this product
Love this ink
I printed on navy blue with out an under base and it's looks fantastic. I didn't even have to flash. Just print flood print. The only issue I have is I had a decent size order. So I wanted to get a gallon. Well they were out of gallon size. So had to get 2qts. Figuring that would be plenty for 450 shirts front and back. Like melon other comments the containers are half empty. I get they measure ink by weight but when you spend $50 for a half empty qt size container of ink and have to worry about running out of $100 worth of ink to print 450 shirts. That part stinks. It prints great but you will go through it pretty fast. I think you can make it go father if you print flash print. That doubles your time. All in all definitely will be buying again. It's worth it. Just make sure you order enough.