Description
WBP is a hybrid emulsion, specially formulated to provide the best characteristics of dual-cure plastisol emulsion with water-resistant properties. If you're printing a lot of water-based and discharge while maintaining a regular plastisol printing practice, this emulsion is for you. The hybrid qualities allow you to use it as your regular printing, no matter what ink you are using! WBP emulsion has the same durability as more specialized water-resistant emulsions but is easier to use and faster to reclaim. Save yourself time and frustration by using WBP for all your plastisol and water-based printing needs.
NOTE: This emulsion comes with a bottle of Diazo - See below for shelf life
Features and Benefits
Easier to use and reclaim than SWR-3
Great for medium to long runs of plastisol, water-based and discharge ink
Active Additive: Diazo
Color: Red
Instructions:

Before use, Diazo must be added and allowed to activate emulsion. First, add room temperature water to the Diazo mixture and agitate. Once dissolved, add the water and Diazo solution into the emulsion and mix thoroughly. Allow the emulsion to stand for at least 30 minutes to ensure any air bubbles introduced during mixing are released. Use the entire bottle of Diazo for the entire container of emulsion, the ratio has been specially selected for proper chemistry. Once the Diazo has been mixed it is ready for use. Reclaiming WBP is easy and works with most stencil removers or reclaimers that are available in concentrate and ready-to-use formulas. Follow proper instructions for reclaiming.
General Exposure recommendations :
500 Watt Halogen - 12-13 minutes
Unfiltered UV Blacklight - 4-5 Minutes
Metal Halide - 250-280 Light Units
To further dial in your exposure time, we suggest running the Step Wedge test with a Step Wedge Calculator.
Click here to watch an instructional video on the Step Wedge Test
Shelf Life in Stable Conditions:
Unopened/Unmixed: 10-12 months
Opened/Mixed: up to 6 weeks
Helpful Hints to Ensure Your Emulsion Lasts Longer Once Mixed :
Always use distilled water to mix the Diazo sensitizer.
Keep in a cool area, emulsion will break down much faster in heat. Keeping emulsion in a fridge can help to give a slightly extended shelf life, however, emulsion that has gotten to the point of freezing will no longer work properly and must be replaced.
Keep the emulsion lid on tight to preserve air and light leaks.
Gently mix the emulsion each time before use to help extend life.
For long runs over 1,000 shirts - use CCI Harden X or another hardener to extend the life of your stencil.
To ensure best results, date your emulsion once mixed and keep an extra container on hand once the emulsion is about to expire*
*Environmental factors such as temperature and humidity can cause the emulsion to expire more quickly.
Notice: During winter parts of the U.S. and Canada will experience freezing temps. Please be aware that Emulsion can freeze. Once frozen, most emulsions are not usable, even "safe" emulsions can go bad if it is cold enough. Please plan your purchases around shipping to your business.
Payment & Security
Your payment information is processed securely. We do not store credit card details nor have access to your credit card information.
Frequently Bought Together
Customer Reviews
Write a Review
Ask a Question
Filter Reviews:
emulsion
screens
Ryonet
inks
printing
plastisol
experience
detail
Works
problems
Tastes great and goes down smooth!
Tastes great and goes down smooth!
09/06/2020
Natalie

United States
Easy to use for at-home printing
I just coated and burned my first screens with this emulsion in my home studio and it worked great. Wonderful detail and washout was easy. I do have one question I haven't been able to find the answer to yet: What is the ideal amount of time to let the emulation dry/cure before burning? I left my coated screens in the dark room overnight to be sure they were fully dry, but it would be nice to speed up this step of the process if possible. Thanks so much!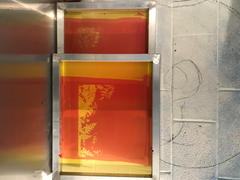 09/07/2020
ScreenPrinting.com
Hi Natalie! First, thank you! There are several videos on our Youtube channel that go over how to set up a proper dark room and all the nuances you want to look out for. This should help explain "hot to properly dry a coated screen". -Chuggins
08/17/2020
Anonymous

United States
Still Learning
I'm still doing lots of trial and error and learning the craft and find that this emulsion is working great for me. It does what I need and have not felt the additional need to try aunt else.
Pretty good....
I've never had problems with pin holes in my emulsion before trying RYONET WBP DUAL CURE WATER BASED PLASTISOL HYBRID EMULSION. After following the instructions EXACTLY, as I do with all emulsions, I noticed that the screens I coated with it were COVERED in pin holes and I had to spend 20 minutes on each putting blackout on them...This IS the first time I've coated with this product, so I will have to see what adjustments need to be made, but my previous emulsion didn't need adjustments for normal coating. I found that the burn times were a little less than my previous emulsion, and the stencil images have very good fine detail, which is why I gave it a 4 star review.
High quality Emulsion
The best emulsion that I have tested, easy to handle, strong for water based ink. and very easy to clean exelente. 110% recommended.