Description
Sgreen® Ink Degrader is an all natural soy based Eco-Friendlier™ plastisol ink degrader, designed to remove difficult inks during your screen cleaning process without affecting the emulsion. It is safe enough to use in your washout sink, washing away difficult inks when mixed with water and agitated with a brush. You can also use Sgreen® Ink Degrader in a recirculation system for the most economic use. Sgreen® Ink Degrader works hard to dissolve plastisol and other difficult inks without harming you or the earth.

CHECK OUT THE SGREEN PRODUCT CATALOG
BENEFITS
Eco-friendly chemicals that are safer for a printer's health, pipes, and environment.
Powerful chemistry that can clean up the messiest jobs just as well (if not better) than industrial chemicals.
Citrus formula allows for easy breathing.
FEATURES
Environmentally safe & Eco-Friendlier™.
Non toxic.
Meets all VOC requirements.
Biodegradable and drain safe.
All-natural soy based formula.
Pleasant smelling with a citrus undertone.
Powerful enough to remove plastisol and graphic inks.
ON-PRESS USE

Spray or pour a small amount onto screen.
Grab a blue shop towel or rag of choice. Scrub both sides of the screen, re-applying Ink Degrader as needed until the screen is clean. Should always be rinsed with water.
If you plan on cataloging or reusing the screen, you can rinse both sides of the screen clean of any residue with pressured water*. This will also help to remove more of the pigment that can become lodged in the knuckles of the mesh causing it to stain.
*Note: Do this only if your emulsion is water resistant. Otherwise you can see screen image breakdown or softening of the image.
RECIRCULATION USE:
Sgreen® Ink Degrader can also be used in a continuous recirculating unit until product becomes too heavily soiled with solids and ink waste. Used product may then be filtered and reused. Be sure to check with your local sanitation district regarding limitations on ink residue that can be washed into the sewage system and what kind of filtration is needed.
STORAGE INFORMATION

Store away from direct sunlight and heat. Do not freeze.
GENERAL SAFETY PRECAUTIONS

Keep out of the reach of children.
Do not take internally.
Avoid contact with eyes.
Wash thoroughly after handling.
FIRST AID:
Eyes: Flush for 15 minutes, seek medical attention if irritation persists.
Swallowed: Drink large quantities of water and get immediate medical attention.
Skin: Wash with soap and water, seek medical attention if irritation occurs.
Inhalation: Remove person to fresh air and keep comfortable for breathing. Call a doctor/physician if you feel unwell.
*** See SDS Sheet for more details
FOR INDUSTRIAL USE ONLY
PRODUCT DATA SHEETS
Payment & Security
Your payment information is processed securely. We do not store credit card details nor have access to your credit card information.
Frequently Bought Together
Customer Reviews
100
reviewers would recommend this product
Write a Review
Ask a Question
Filter Reviews:
stuff
screen
Ink Degrader
anything
issues
fact
spray bottles
zero
environment
user
08/12/2022
Riley P.

United States
I recommend this product
Great product but leaked during shipping
Product works great but when I received it, it was all greasy feeling and all the ink on the label had been washed away from the product leaking. Luckily it was shipped in a plastic bag so it didn't get on anything else, but it makes me wonder how much leaked out.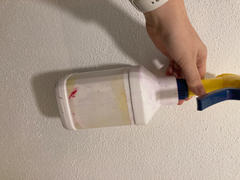 09/21/2022
ScreenPrinting.com
Hey Riley! Thanks for the awesome review and taking the time to leave us some feedback on your recent purchase! Super rad you were able to save the product and still use it to your advantage, much apologies for the damages in transit.
I recommend this product
Works Great
Very happy. Takes the ink right off.
10/15/2022
Gary C.

United States
I recommend this product
Works great in our squeegee cleaner
Works great and smells good too.
07/29/2022
Anonymous

United States
I recommend this product
Great Ink Degrader
Love how well this works. Degrades ink starting on contact. Only issue is the gallon container could be redesigned for better filling of spray bottles. Otherwise I'll reorder time and time again. Great stuff.
08/04/2022
ScreenPrinting.com
Hey Screen Printer! Thanks for the feedback and sharing how great you found Sgreen Ink Degrader to work for you!! Keep on Powering the PRINT!
03/14/2022
Brett M.

United States
I recommend this product
So far so good
I've yet to use it but the construction is very solid and look forward to using it.
03/17/2022
ScreenPrinting.com
Hi Brett! Thanks for leaving us a review, so glad its great so far! Report back if you have any further feedback! Keep on Powering the PRINT!