Description
Explore the FULL spectrum of your screen printing vision with the Green Galaxy™ Fusion Mixing Kit. Using our slick online Pantone® based color mixing program and 11 optimized Green Galaxy™ Fusion pigments, it's now just as easy to mix your own custom water-based colors as it is to print them. Ryonet's Green Galaxy™ Fusion Mixing Pigments have all of the same leading-edge features as our ready-to-print Green Galaxy™ Water Based Inks. With extensive in-screen open times, filter-less mixing, improved viscosity for superior pigment control and print opacity, HSA (High Solids Acrylic) technology and the flexibility to be used with Warp Drive for use on more versatile printing mediums, we designed the Green Galaxy™ Fusion Mixing Pigments for passionate printers. Just add the appropriate amount of pigment to Green Galaxy Clear™ Core and/or Opaque Core bases and fuse your own color pallet for your next print!
Kit Includes:
11 Pints of Green Galaxy™ Fusion Pigments
1 Gallon of Green Galaxy™ Clear Core Base
1 Quart of Green Galaxy™ Opaque Core Base
Mixing instructions:
To access the latest version of the mixing formulas click here.
Green Galaxy™ Fusion Mixing Pigments can be mixed directly into Green Galaxy™ Clear Core Base, however, we recommend creating your own base with 80% Clear Core and 20% Opaque Core. Adding 20% Opaque Core to your mix provides more body and better coverage to the ink. If you desire more coverage or body you can add additional Opaque Core to the mixing base, but this will alter the mixing formula slightly and manual tweaks will be necessary to achieve the originally desired Pantone® color.
Green Galaxy™ Fusion Pigment load should not surpass 25% of total ink mixing ratio, with the exception of Green Galaxy™ Fusion White Pigment. Green Galaxy™ Fusion White Pigment is curable but will lead to a heavier hand and more crusted feeling if added in excess.
NOTE: If too much pigment is added to the mixing base it will not cure properly. All mixing formulas found on Fusion.Screenprinting.com have already been appropriately balanced and should not need adjusting if using the recommended base.
***Some Pantone colors require Booster Inks, they are not included in this kit. See Booster Inks here.
Payment & Security
Your payment information is processed securely. We do not store credit card details nor have access to your credit card information.
Frequently Bought Together
Customer Reviews
Write a Review
Ask a Question
Filter Reviews:
Ruby
fault
mixing system
ink congratulations
pint
another
containers
quality
products
shirt
04/24/2021
Camilo T.

United States
I recommend this product
Great product faulty packaging
First of all I want to say that these inks are great, they did take a while to come in however they worked amazing with the mixing system. I was a little bummed at the fact that shipping for these products takes a while (took 4 weeks for me), however that's obviously not at fault with the product. Another complain I have is that when I received my kit I obtained 2 Ruby containers and no container with Red. I guess that's more of a QC issue but overall that is why I rated this a 4.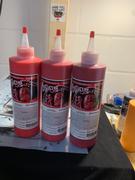 A good way to get your foot in the door with water based ink
I was a little unsure about trying this out since I could find very little details on how much ink you can actually mix with this system. I talked with a rep and they wouldn't give me every a ballpark number. I needed some pantone inks for a job so I decided to give it a try and see how it went with a small 150 shirt order. First things first. Get a good scale. Your regular kitchen scale will get you close enough for basic jobs but if you need to rematch your colors and make another batch you are going to want that precision. So far I have mix a ton of 7 500 gram "pints" of ink and I have mixed up 3 200 gram amounts of ink for some small jobs. It really does depend on what colors you are mixing to give you an idea of how much ink you can get. I will probably be able to get 2-3 more pints out of the kit depending on the colors I mix but I have already ordered a gallon of clear and opaque base and a quart of white pigment since that one goes the fastest on the colors I have used.