Description
BENEFITS:
An affordable, high-quality screen printing press allows new printers to get a strong foothold in the industry.
With the ability to change out platens, printers can print on a variety of types of garments.
If a printer moved onto a larger press, the 150 could be used for live printing events, one-color jobs, or neck labels.
For more than 40 years, Riley Hopkins has developed high-quality, economical equipment that has jumpstarted thousands of printers' careers. 
If you're looking to make screen printing your side gig or need a press for live printing, the Riley 150 will do the trick. Stronger than a DIY press yet simpler than a Riley Hopkins 250 Press, the Riley 150 will produce stellar prints without hurting your wallet. 
One of the coolest features of the press is the ability to change out platens. Having access to various platens means you can print youth apparel, neck labels, chest prints, etc. You also have the option to choose between a 1 Color 1 Station and a 4 Color 1 Station press. 
Whether you're starting an Etsy shop, printing as a side hustle, or printing at live events, the Riley 150's durability and versatility will help start your engine and give you the opportunity to expand your brand.
Setting up the Riley 150 is a piece of cake. To assemble the press, all you need is two, ½ inch wrenches and two 9/16-inch wrenches. You can screw the press down into an existing tabletop or workbench. Otherwise, look into the Riley Hopkins Press Cart where not only can you place your press on, you can store up to six screens. 
Are you ready to invest in yourself? The Riley Hopkins 150 will establish the foundation for your new side business.
*Please note that the augmented reality experience may not work on some browsers or devices.
FEATURES:
Rigid station arms
Hot-rolled steel and aircraft-grade aluminum 
American made
Tough springs to hold screens upright
Sturdy screen clamps
PRESS CONFIGURATIONS:

1 Color 1 Station
4 Color 1 Station
TECH SPECS:

Platen Height: 4.5" (31 cm)
Platen Size: 16"x16 with neck
Max Frame Size: 23"x31" (every other print head with 4x1)
Base Configuration: Tabletop
Color/Stations: 1x1 or 4x1
1x1 Footprint (with 16x16 Platen): 20"x40"
4x1 Diameter with (16x16 platen): 60"
Assembled Height: 18"
1x1 Weight: 28 lbs for 1x1
4x1 Weight: 63 lbs 
Ships in one box
COMPATIBLE ACCESSORIES:
PRODUCT DATA SHEETS
Payment & Security
Your payment information is processed securely. We do not store credit card details nor have access to your credit card information.
Frequently Bought Together
Customer Reviews
98
reviewers would recommend this product
Write a Review
Ask a Question
Filter Reviews:
press
quality
assembly
video
amazon
machine
customer service
Ryonet
equipment
YouTube
07/22/2020
Antonia M.

United States
I recommend this product
Riley Hopkins 150 product and service review
I haven't used my Riley Hopkins 150 yet! But I'm sure it'll be great. A suggestion would be better instructions as it was a little difficult to understand building it. Another thing I suggest is having a miscellaneous parts bag only because I was missing quite of few things to put it together. I didn't get my machine for over a month which I don't agree with! If I waited over a month I would've expected it to be built and shipped built. I had a lot of confusion with customer service/shipping And the emulsion should be priced lower for a pint. I feel as though it's like having a sample which paying 30 for a sample size plainly isn't worth it. Overall I want to say if none of that happened it would've been a 5 star. I think the machine itself is beautiful. I love that it's American made. It should definitely come with a table because it was a mission trying to find something good enough for the machine to go on.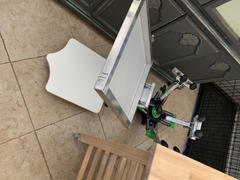 03/15/2021
Soren C.

United States
I recommend this product
Heavy Duty
Bought the ~200$ blue one from Amazon and when I put it together realized how terrible it was so I decided might as well drop a little more money and save the stress. This thing is perfect if you're just getting started but still want professional level equipment! Easy to assemble and no tweaking or modifications needed to get a perfect print.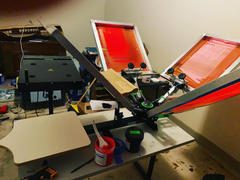 03/17/2021
ScreenPrinting.com
Hey Soren! WHOOOOO HOOOOO!!! I feel like we just levelled up with your review! We created the 150 press for this exact purpose - to get folks set up to start their screen printing dreams! We're so happy we can provide this quality press for you :) Keep us updated on Instagram! We love to stay up to date on what our friends in the industry are up to :) Thank you for your lovely feedback! Keep ROQin' it! All My Best, Kayli B
04/04/2021
merritt t.

United States
I recommend this product
Riley 1-color station press
Really happy with the build finish and ease of setup with this press. I had looked at several options including building a DIY setup but for the price, this is a fine little press. You may even call it im-press-ive? Sorry, had to.
11/03/2020
Michael C.

United States
I recommend this product
Great piece of equipment
Just while setting it up i must've said, "this thing is solid!" a hundred times. I used the video on youtube to build the press , i felt the instruction booklet needs to be updated, based on how shallow the instructions were. the video however was hands down. also one screw for the the hinge was an inch shorter than the others ,but it worked none the less. I am excited about getting some screens and getting back in it. (i used the cheap blue amazon special press to due projects in the past.) I've learn that in order to get good products for customers you must invest in yourself.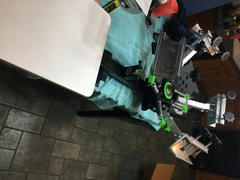 11/10/2020
ScreenPrinting.com
Michael, Wow! Just wow! We're so happy and flattered you've come to us to get the job DONE! The 150 was built with our customers in mind, and your words really hold true to the value and quality we have invested into this model. We apologize the instructions were a bit bare, but that kind of feedback is how we improve :) We appreciate it! If you have any questions about the process, or find that shorter screw needs to be replaced with the bigger one, please drop us a line in chats or give us a call! We want to help :) Thank you, Kayli B
05/25/2021
Mel M.

United States
I recommend this product
Great product
Very good craftsmanship. Sturdy metal parts. Better than I expected.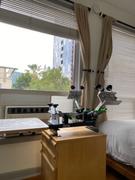 05/26/2021
ScreenPrinting.com
Hello Mel - thank you for taking the time to leave a review! We are very happy to hear you are pleased with the press - our team works hard to ensure that every part is of high quality so that you have the best chance for success! HAPPY PRINTING!