Description
Meet your instructors! - Corey Biasini
My story begins after we sold our Dry-Cleaning business. This was the beginning of our quest to find a new venture. Previously, my father and I had entertained the idea of becoming screen printers. We spent countless hours doing extensive research on the business. By this point we knew all the ins and out of the screen-printing business, and we were ready to buy a business. Yet, we were unable to come to an agreement with any of the potential sellers. It wasn't until February 2018, that we made the decision to purchase RELIK INK. One year later and we have no regrets. We are extremely happy with our purchase and enjoying our new positions in the company.
Art was and still is my passion. I grew up making designs on paper that were very well received by people around me. I loved having the ability to create new images and people told me I was talented. Yet, I did not know how to tap into that talent and pursue it further. Then I discovered screen printing. Once I researched it, I realized that it could reach an limitless amount of people. I realized that the opportunities to spread my art were endless. Think about it- screen printing is something that can be applied to all types of businesses; hence it can make an impact in multiple markets. My art could make an impact on essentially anyone. Just to list a few industries: sports, music, food, automotive, and fashion, those are all possible clients. Even religious establishments can benefit from screen-printing. With the unlimited subject matters that can be screen printed, the use for my art is infinite. I have finally found a business that gives me the opportunity to spread my art and allows me and my family to make a decent living.
Honestly, this year has been challenging. Fortunately, it has also been fun and fulfilling. I am lucky enough to make a living doing what I love, and for that I am grateful. We may only have one year under our belt, but we are very good at what we do. We have a vision for this company- we want it to thrive. This takes a lot of hard work and dedication. We are constantly learning and evolving. We have taken advantage of all the resources available online. As time progresses, we have more experiences and our knowledge increases. We find a great deal of satisfaction in reaching all our goals and making our customers happy. We are passionate about what we do, and we believe that our work represents that. This is what makes us successful. Every t-shirt is a unique work of art. I am thrilled when I see my designs worn by my customers- this is what drives my dedication.
In the future, I have plans to create my own brand. I intend to expand my business by going into on-line sales. I will infiltrate the online market and expose even more people to my products via Facebook, Instagram, and specialty stores' websites. Obviously, this will go hand in hand with an increase in personnel. We plan to hire more people for sales and marketing.
We might be small, but we think big. This is our story- tune in next year to see where our journey has taken us.
Class Times:
Friday and Saturday: 9 a.m. - 5 p.m.
Class Location:
4121 Pine Ridge Rd. Naples, Florida 34119
Nearest Airport:
Naples Municipal Airport (NMA) and Southwest Florida International Airport (RSW)
Hotels Nearby:
Hampton Inn
2630 Northbrooke Plaza Dr. Naples,FL. 34119 (239) 596-1299
DoubleTree Suites by Hilton Hotel Naples
12200 Tamiami Trail N, Naples, FL 34110
The Screen Printing Class Includes:
Blank t-shirts will be provided for you to practice your new knowledge
Lunch for both days (call a week prior for vegetarian options)
Ryonet's digital screen printing class book and materials for note-taking
Most importantly, the skills and knowledge to progress in the industry
Day 1: The 7 steps to the screen printing process are day 1; with a bit of printing in the morning and end of the day
Day 2: Art and using the tips learned last 2 days for printing on the shirts provided

This class is for 16 years of age and up. No minors younger than 16 years of age due to safety requirements and labor laws.
The Screen Printing Class Covers:
Basic artwork flow
Film output options
Choosing the right mesh for your project
Setting up a dark room
Choosing the right emulsion and properly coating your screen
Using a pre-registration template
Properly burning a screen
Screen washout techniques
How to register your job
Proper silk screen printing techniques
Clean-up techniques
Overview of Corel, Illustrator, Accurip, and Separation Studio; The team a Relik uses Adobe
Spot color printing
Four color process (CMYK) printing
Simulated process printing
Foil applications
Discharge printing and mixing
Water-based printing
Discuss printing on paper
Overview of different apparel types
Tips on the business side of screen printing
Cancellation Policy
Once you have paid for your class, refunds are not available. You must contact us no less than 24 hours in advance if you are unable to attend the class you signed up for, we are happy to assist you in rescheduling for a different class at that point. If you do not contact us 24 hours in advance you will be charged a re-booking fee of $50. You may, also, choose to receive in-store credit in the same amount you paid for class tuition, or $50 less (if you did not contact us 24 hours in advance), which you can use towards your next Ryonet purchase. To make arrangements, or to request help, please email us at education@ryonet.com or call us at 1-800-314-6390.
*Classes are subject to change. We will notify you of any updates via email. Please note Ryonet is not responsible for the lost deposit or travel booking fees if class dates change due to unforeseen circumstances.
Payment & Security
Your payment information is processed securely. We do not store credit card details nor have access to your credit card information.
Frequently Bought Together
Customer Reviews
Write a Review
Ask a Question
Filter Reviews:
forums
videos id
instructor staff
each
YouTube
nothing
screen printing
Everyone
class
01/26/2020
Kaleb R.

United States
Amazing Class with Remarkable Instructors
Wish i would've done this months ago. I learned so much from a extremely knowledgeable and welcoming instructor staff. Very encouraging and even began the class by asking each of us what we're trying to achieve. I believe they accomplished that for each of us. Very accommodating, i had fun... i feel like everyone else did too. Im excited to move forward in my screen printing. Even with allllll the YouTube videos id studied.. all the forums ive joined.. nothing compared to this class. I appreciate it.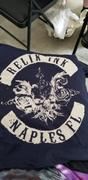 Definitely Recommend
I had some knowledge and experience in this field. This two day course left me with more answered questions than the other way around, I would definitely recommend this class to anyone interested.
Blown away and inspired!
Right when I stepped through the door to our class I was blown away and inspired by Relik Ink's warehouse and set up. Things only got better from there, Dany and every one on the team were very informative and answered all of our questions and concerns thoroughly. Thanks to this class I feel confident in my ability to work with my brothers business. Thank You Ryonet and Relik Ink for this opportunity and passing on your experience.