Description
Dennis starting screen printing in 2007 with no background in art or printmaking. He'd worked on Wall Street wearing a suit and tie every day and gave it all up to start printing t-shirts. He knew he wanted to work with his hands to create and be a craftsman; screen printing filled that need. He started his business as a single- color, single-station press in his parents' garage and grew slowly to his first automatic press.
Ampersand's niche is focused primarily on local businesses that they personally connect and identify with, and mostly through word of mouth. They pride themselves on their quality & service which hasn't changed since the first day. "I truly love screen printing with a passion and respect for the process involved. I started my career as a Ryonet student, so it means a lot to be an EDU partner, to be able to share with others what was shared with me."
Class Times:
Friday and Saturday: 9 a.m. - 5 p.m.
Class Location:
Ampersand Print Co.
Industry City
254 36th Street, B530
Brooklyn, New York 11232
www.industrycity.com for more info on the area
Nearest Airport:
Brooklyn can be easily accessed by any of the NY area airports:
LaGuardia (LGA)
John F. Kennedy (JFK)
Newark, NJ (EWR)
Hotels Nearby:
Wyndham Garden
457 39th St, Brooklyn, NY 11232
Quality Inn
4410 3rd Ave, Brooklyn, NY 11220
The Screen Printing Class Includes:
Blank t-shirts will be provided for you to practice your new knowledge
Lunch for both days (call a week prior for vegetarian options)
Ryonet's digital screen printing class book and materials for note-taking
Most importantly, the skills and knowledge to progress in the industry
Day 1: The 7 steps to the screen printing process are day 1; with a bit of printing in the morning and end of the day
Day 2: Art and using the tips learned last 2 days for printing on the shirts provided

This class is for 16 years of age and up. No minors younger than 16 years of age due to safety requirements and labor laws.
The Screen Printing Class Covers:
Basic artwork flow
Film output options
Choosing the right mesh for your project
Setting up a dark room
Choosing the right emulsion and properly coating your screen
Using a pre-registration template
Properly burning a screen
Screen washout techniques
How to register your job
Proper silk screen printing techniques
Clean-up techniques
Overview of Illustrator, Accurip, Separation Studio, and Photoshop; Dennis uses Adobe
Spot color printing
Four color process (CMYK) printing
Simulated process printing
Foil applications
Discharge printing and mixing
Water-based printing
Discuss printing on paper
Overview of different apparel types
Tips on the business side of screen printing
Cancellation Policy
Once you have paid for your class, refunds are not available. You must contact us no less than 24 hours in advance if you are unable to attend the class you signed up for, we are happy to assist you in rescheduling for a different class at that point. If you do not contact us 24 hours in advance you will be charged a re-booking fee of $50. You may, also, choose to receive in-store credit in the same amount you paid for class tuition, or $50 less (if you did not contact us 24 hours in advance), which you can use towards your next Ryonet purchase. To make arrangements, or to request help, please email us at education@ryonet.com or call us at 1-800-314-6390.
*Classes are subject to change. We will notify you of any updates via email. Please note Ryonet is not responsible for lost deposit or travel booking fees if class dates change due to unforeseen circumstances.
Payment & Security
Your payment information is processed securely. We do not store credit card details nor have access to your credit card information.
Frequently Bought Together
Customer Reviews
Write a Review
Ask a Question
Filter Reviews:
knowledge
class
Ryonet
Dennis
information
apparel printing
screen printing posters
community
amounts
experience
Learned a lot!
I really enjoyed that class and learned a lot. I have been screen printing posters for a while and dabbled with t-shirt printing. This class has definitely increased by knowledge in apparel printing.
03/05/2020
Richard F.

United States
Simply awesome, highest recommendation!
This is a fantastic education experience, Dennis and Allison Tan are the perfect hosts. Their enthusiasm, genuine concern for each student's comprehension and understanding is admirable. Dennis's depth of knowledge and ability to communicate his skills and experience ensures each student, regardless of prior knowledge, walks away confident and fulfilled. Highly, I Highly recommend this class!!
03/18/2020
ScreenPrinting.com
Hi Richard, thanks for leaving your review. We are really lucky to have Dennis and Allison teaching our course in Brooklyn. They truly care about each person they meet and pay attention to detail! We wish you nothing but success in your printing endeavors! -Ronald
12/26/2019
Anthony H.

United States
AWESOME CLASS!
All I can say is by enrolling in this workshop, I saved myself a lot of time, aggravation and most of all money. Everything that I thought I knew about this business, I quickly found out that I did not know a thing. Dennis is an amazing instructor full of knowledge and is very detailed. I walked away with a renewed vigor based on the information provided, thank you Dennis Tan... thank you Ryonet!
08/30/2019
Samantha I.

United States
Great Experience!
The Ryonet screen printing class was great. Dennis was very helpful and thorough. Any questions we asked he answered. He was very natural and easy going, very well spoken. When I came back to work my boss said how happy he was that I went to the class and how much it looked like I learned! We already have an order of shirts out that people loved and want more of!! Thanks Ryonet!!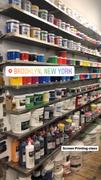 Large amount of knowledge shared!
Im beyond appreciative for the amounts of knowledge that was released to me in 2 days. Thank you RYONET for hosting a SPE Class in my community and Thank you Dennis Tan for being one that know how to deliver information properly.