Description
Sgreen® Adhesive is an eco-friendly water based pallet adhesive, designed to be used as an alternative to conventional aerosol spray mist. Used in concentrate or diluted form, Sgreen® Adhesive creates a secure non-permanent bond between the substrate and pallet during screen printing, while allowing for easy removal without leaving residue. Sgreen® Adhesive is a heat resistant pallet adhesive, and can be used with or without flash curing.

CHECK OUT THE SGREEN PRODUCT CATALOG
FEATURES
Environmentally safe.
Non-hazardous.
High Solids
Water based adhesion for easy removal and cleaning.
Won't leave residue on garments.
Specially formulated for pallet adhesion.
Heat-resistant, and air-drying
BENEFITS
The application process is cleaner compared to spray tack: You won't have a sticky residue on your press, floor, clothes, etc.
Water-based adhesive has great longevity on press. If too much lint builds up, all you have to do is scrub it off and continue printing.
The adhesive can be reactivated with a scrub brush and water, so printers save money by not having to reapply continuously.
DIRECTIONS:
Clean area to be treated, apply Sgreen® Adhesive by brush, automatic spray applicator, roller or plastic ink card. Use full strength or dilute one part product with up to one part water.
When using in a spray application, apply in a quick smooth "S" pattern covering the entire surface. While you can spray with a hand held spray bottle, an electric spray gun or air operated unit would be optimal.
FREEZE WARNING: When ordering water-based adhesive during the winter, please note that it's possible for adhesive to freeze during transit. Frozen adhesive is unusable. We recommend to plan accordingly when ordering so shipping is uninterrupted and to pull all delivery packages inside the building and store in a warm place immediately.
PRODUCT DATA SHEETS:
Payment & Security
Your payment information is processed securely. We do not store credit card details nor have access to your credit card information.
Frequently Bought Together
Customer Reviews
93
reviewers would recommend this product
Write a Review
Ask a Question
Filter Reviews:
spray adhesive
water
shop
stuff
pallet
everything
press
lungs
spray
sweatshirts
07/30/2023
Rich S.

United States
I recommend this product
Great Product
I just ordered another bottle of the Sgreen Adhesive even though I still have about a 1/4 bottle left. I've been using this pallet adhesive from the moment I went into business and it delivers. It lasts a long time too! I've been using the same bottle for more than a year!
08/02/2023
ScreenPrinting.com
Good job planning ahead on ordering supplies! And thank you for the review! Glad to hear this adhesive has been working good for you. Happy printing! -Samuel
07/27/2023
Anonymous

United States
I recommend this product
Awesome Product
We use this product all the time and it works great!
07/28/2023
ScreenPrinting.com
Glad to hear that the water based adhesive is working good for you! Thank you for leaving it a review! :) -Samuel
07/24/2023
Kyle

United States
I recommend this product
So much better than spray!
I used to use spray adhesive because it was quick and easy. I switched over to this water based adhesive and wished I did sooner. It takes a little longer to apply and a little more work than spray adhesive, however, it doesn't smell up my shop, leave my press sticky, and lasts way longer on print runs. I would definitely recommend switching if you are currently using spray adhesive.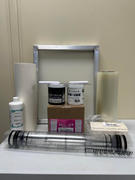 07/27/2023
ScreenPrinting.com
You hit the nail right on the head! Glad you like it! Everyone really should make the switch!
07/05/2023
Anonymous

United States
06/29/2023
Aim H.

United States
I recommend this product
Great adhesive
This water based adhesive is perfect for our shop. We are able to spray the platens with water and wipe away the shirt fuzz with a rag allowing us to continue running jobs without the time involved in replacing the platen tape every few rounds.
07/27/2023
ScreenPrinting.com
Thank you for this review! So rad to hear this is working well for your shop! Pro tip - after cleaning the fuzz off, put the pallet under the flash to re-energize the adhesive! Happy Printing!