Description
Comet White by Green Galaxy is the first Phthalate and PVC free water based ink that performs like plastisol but feels like water based ink. Light, creamy and easy to use Comet White stays wet in the screen during printing longer than any other water based white we have tested. With the ability to print through mesh sizes ranging from 110-305, Comet White not only prints great it feels amazing on the shirt. With an extremely soft hand, bright and crisp look and flexible nature, Comet White is the best thing to hit the screen printing since White Plastisol.
"Ryonet`s Comet White ink is the best thing that has ever happened to me or my shop. We just tried it today for the first time and are seriously talking about entirely switching over from plastisol. Please tell me it comes in five-gallon drums."
- Brian W.
General Information:
Ready-to-use water based ink for screen printing on fabrics. It can be printed on polyester or dye migrating fabrics with optional use of Green Galaxy™ Warp Drive low cure catalyst.
Mesh Guidelines:
Can be used with any mesh between 110-305.
Stencil/Emulsion Guidelines:
We recommend using a water-resistant emulsion like Baselayr Complete. It is recommended to degrease your screens with Baselayr Emulsion Prep. For extended screen life and long print runs it is recommended to post expose the screens and/or use an emulsion hardener like Baselayr Emulsion Hardener.
Mixing info:
This product can be mixed with other Green Galaxy™ HSA Water Based Inks.
Printing Instructions:
Load screen with plenty of ink. Flood screen prior to printing. Green Galaxy™ HSA Water Based Ink can be printed with a push or pull squeegee stroke. After printing, flood screen allowing ink to sit on top of image to avoid drying. If screen clogs or exhibits dry ink in the print, re-flood and aggressively print again, this should clear the screen. If it does not clear the screen, spray a small amount of warm water into the stuck areas of the screen and wipe out with a rag. If you are leaving your screen for an extended period of time be sure to leave your screen flooded completely. If your ink begins to scale over, spray with water to rewet ink. Green Galaxy™ HSA Water Based Ink can be printed with other water based inks and with plastisol inks.
Flashing Instructions:
For flashing, forced air flash is optimal. Flash until dry to the touch.
Printing on an under base:
Green Galaxy™ HSA Water Based Ink colors can be printed on top of Green Galaxy™ Comet White, or discharge under base. Ensure that the under base is properly flashed so that it is dry before printing color on top. Perform wash test to ensure inner layer adhesion.
Curing Instructions:
Printed fabric should be cured for a minimum of 90 seconds at 360°F. Ideally, printed fabric should be cured for three minutes at 300-320°F.
Testing/Precautions:
After printing, perform a stretch test to ensure elasticity. It is always recommended to perform a wash test to ensure proper cure prior to going into production. You may also run abrasion testing to watch for flaking and test adhesion. Increase cure dwell time if testing fails.
Clean Up:
Ink should be removed from screen as soon as printing is completed. General wash-up (on ink that has not dried) can be done with water, though using Sgreen™ Aqua Wash is much easier and recommended. For aggressive or dried screens, use Sgreen™ Aqua Wash to dissolve ink and blast out areas of dried ink with water pressure.
Storage info:
Keep container(s) tightly closed. Store in cool, well-ventilated location that is locked.
General Safety Precautions:
Do not breathe vapors. Wear protective gloves. Do not eat, drink or smoke when using product. Wash hands thoroughly after handling. Dispose of this product in accordance with local, regional, national and international regulations as specified.
Payment & Security
Your payment information is processed securely. We do not store credit card details nor have access to your credit card information.
Frequently Bought Together
Customer Reviews
98
reviewers would recommend this product
Write a Review
Ask a Question
Filter Reviews:
white
screen
hand
inks
water
stuff
Feel
results
screen printing
Green Galaxy
Good white, Bad underbase.
I just want to start by saying that comet white is great when printing a straight white, or highlight white print. I love everything about it. Now i want to get to why im writing this review. Im writing this review because I hope the guys at ryonet see it and address it and I want to warn newer printers of the problems of using comet white as an underbase. I have been using green galaxy inks exclusively in my small print shop in NY (less than a year old). I have been running into an intermittent problem when using comet white as an underbase where the top color falls off after washing. I have called many times over the months with many different explanation as to why this is happening. I followed every suggestion that was given to me but still have this problem from time to time. It has cost me a few small jobs that I have had to refund or re-print, hundreds of dollars lost and embarrassment on my part. ( I re-printed the job with a discharge white underbase). I have spent hours and hours trying to figure out why this is happening, tinkering with my flash times and temps with no obvious culprit. First they told me I was over-flashing my underbase, and then the told me I was under-flashing my underbase. Neither seemed to work. I can say that I have noticed that it happens worst when printing runny green galaxy inks ( and pantone matched) on comet white. I know its not a cure problem because i cure the living heck out of it and even have tried heat pressing, and have still had the same problem. I really hope someone hi-up at Ryonet sees this review and they create a video addressing this issue and how to avoid it. This one problem makes me want to completely abandon green galaxy inks and go to a different ink manufacturer. Please help me fix this problem! If underbasing was not a problem, this ink would IMO be perfect. I will change my review if fixed. Thanks,
10/18/2018
ScreenPrinting.com
Hey Daniel, Appreciate the detailed review on the comet white. Most of the time this issue happens when the underbase is over flashed or the ink may not be fully cured. It's pretty rare that this is caused by under curing.. To further support you on this, I will have one of our reps connect with you and help dial in the issue. From my experience, it is best that we have you work with one person through the process of elimination, as the information can get overlooked if there are different reps giving you advise. Please feel free to follow up with me if you would like to follow up. Our rep should connect with you soon. Have a great day! Alex Castrillo Acastrillo@ryonet.com
08/10/2020
Anonymous

United States
I recommend this product
Green Galaxy Comet White HSA Water Based Ink Review
This water based ink is AWESOME! I have been screen printing for about twenty years, screening with all inks. We use plastisol in the shop, but for my own work I like the water soluble... feels a million times. better. This ink was printed on black cotton shirts and did make about 3-4 passes just to make sure it had a nice full white appearance. It did the job. I will say it is not that vibrant white that the plastisol ink gives, but I DID NOT WANT THAT LOOK OR FEEL. This stuff is fantastic! I highly recommend it. I will be ordering more of this stuff for sure.Thank you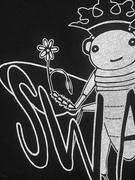 12/05/2019
Matthew M.

United States
05/11/2022
Andrew

United States
I recommend this product
White water based ink no longer intimidates me
I'm a hobbiest and avoided using white ink as much as possible. No more! This ink is so smooth and easy to work with!
05/23/2022
ScreenPrinting.com
Hi Andrew! Thanks for the rad review on Green Galaxy Comet White! We appreciate your feedback. The ink is amazing and deserves a great review. Glad you jumped into water base! Happy printing, keep Powering the PRINT!