Description
BENEFITS:
Affordable, high-quality screen printing press that allows new printers to get a strong foothold into the industry
With the ability to change out platens, printers can print on a variety of types of garments

If a printer moved onto a larger press, the 150 can be used for live printing events, one-color jobs, or neck labels
Side hustles are becoming more and more common as folks realize the traditional 9-to-5 doesn't cut it any longer. We all yearn for new ways to pursue our passions, buy the things we need or want, and lower our financial worries. It doesn't take long once you calculate the cost of your living expenses to realize that there is barely anything leftover at the end of the month, which is not cool, at all.
The traditional work schedule is not enough to live the life you dream about. Are you ready to invest in yourself? If so, consider jumping into screen printing by starting off with the Riley Hopkins 150 1 Color 1 Station Press.
For more than 40 years, Riley Hopkins has developed high-quality, economical equipment that has jumpstarted thousands of printers' careers. Now, the brand will bring more printers into the industry with the Riley Hopkins 150 Press.
If you're looking to make screen printing your side gig or need a press for live printing, the Riley 150 will do the trick. Stronger than a DIY press yet simpler than a Riley Hopkins 250 Press, the Riley 150 will produce stellar prints without hurting your wallet. One of the coolest features of the press is the ability to change out platens. Having access to various platens means you can print youth apparel, neck labels, chest prints, etc. Whether you're starting an Etsy shop, printing for a local business, or live printing, the Riley 150's durability and versatility will give you a strong foothold in the industry and the opportunity to expand your brand.
Setting up the Riley 150 is a piece of cake. To assemble the press, all you need is two, ½ inch wrenches and two 9/16 inch wrenches. You can screw the press down into an existing tabletop or workbench. Otherwise, you can look into the Riley Hopkins Press Cart where not only can you place your press on, you can store up to six screens.
Are you ready to invest in yourself? The Riley Hopkins 150 will establish the foundation for your new side business.
FEATURES:
Rigid station arms
Hot rolled steel and aircraft grade aluminum
American made
Tough springs to hold screens upright
Sturdy screen clamps
TECH SPECS:

Platen Height: 4.5" (31 cm)
Platen Size: 16"x16 with neck
Max Frame Size: 23"x31"
Base Configuration: Tabletop
Color/Stations: 1x1
Footprint (with 16x16 Platen): 20"x40"
Weight: 28 lbs
Ships in one box
COMPATIBLE ACCESSORIES:
Payment & Security
Your payment information is processed securely. We do not store credit card details nor have access to your credit card information.
Frequently Bought Together
Customer Reviews
Write a Review
Ask a Question
Filter Reviews:
quality
guys
best
color screenprint station
American
color press
amazon
printers
customer service
complaints
04/04/2021
merritt t.

United States
I recommend this product
Riley 1-color station press
Really happy with the build finish and ease of setup with this press. I had looked at several options including building a DIY setup but for the price, this is a fine little press. You may even call it im-press-ive? Sorry, had to.
01/10/2021
George C.

United States
I recommend this product
1 color 1 station screenprinting press
This 1 color screenprint station rocks!!! Moving my way up to a 4 color screenprint station soon. You guys are the best!! Thank you for providing american made products that are available for small printers like me.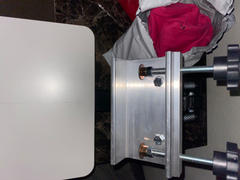 01/13/2021
ScreenPrinting.com
George!!! Buddy! Pal! Thank you so much for your review! Whenever someone's excited, we get EXTRA excited because we made this press with our friends in the industry in mind :) Whenever you're ready for that 4 color, let us know if you need some help! We're here for you on this journey :) Keeping kicking butt! All my best, Kayli B
02/10/2022
Mitch R.

United States
I recommend this product
Great press
So far it's been great. Easy to set up and seems to work well. No complaints and I would buy again. I'm hoping to upgrade soon and probably just use this one for pop up events.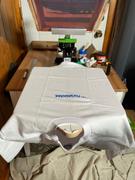 02/15/2022
ScreenPrinting.com
Hi Mitch! That is a bold Rockstar move! The Riley 150's are great for traveling events. Thanks for the awesome feedback, keep on Powering the PRINT!
04/05/2021
Anonymous

United States
I recommend this product
amazing quality
i love this press so much and as a beginner screen printer its been a huge catalyst in helping me successfully print large batches of tee shirts!
04/08/2021
ScreenPrinting.com
Hello and thank you for taking the time to leave a review! The 150 is a good solid press for sure! Really good to hear it's capable of large batches - boom! Happy Printing :-)
11/05/2020
Brandon L.

United States
I recommend this product
Exceeded expectations
This press is really great quality. Simple to use,easy to set up. Will definitely be purchasing my 4 color press from you guys next!
11/11/2020
ScreenPrinting.com
Hey Brandon! Wow, thank you for your review! I am so happy to hear this was an easy set up :) We created this model in the Spring with ease of use as one of the main attractive aspects in mind. Whenever we hear of success, we celebrate! Our goal is to make Screen Printing approachable for everyone :) You're awesome! Thank you, Kayli B