Description
With more than 40 years of developing high-quality, affordable screen printing equipment, the Riley Hopkins brand has jumpstarted thousands of printers' careers. Increase your SPM (shirts per minute) with the RileyCure Table Top Conveyor Dryer.

Have you been using a flash dryer or a heat press to cure prints, but it has created a bottleneck in your production capacity? The RileyCure Table Top is the perfect conveyor dryer to start ramping up your business. Its small footprint is great for shops working out of a spare bedroom, basement, or garage. The fact that it uses a standard household plug makes the transition even easier.
Not only will the conveyor dryer fit well in your print shop, it's extremely effective. Its infrared heating element is powerful. The tight wire and edge-to-edge construction ensures consistent coverage across the entire print.
With the RileyCure Table Top, printers will experience increased efficiency in their production. With features like the on/off switch, belt speed control, and adjustable gates, you'll be able to hone in settings for each job. Plus, you won't have to worry about the belt falling off the track thanks to the belt tracking system. This conveyor dryer will make your life easier.
Invest in efficient, stable equipment. Turn up the dial today with the RileyCure Table Top Conveyor Dryer.
VIEW THE RILEY HOPKINS EQUIPMENT CATALOG
FEATURES
On/off switch
Compact footprint
Belt speed control
Adjustable gates
Belt tracking guide
10-foot power cord
1 year warranty
Perfect entry-level conveyor dryer
Low-level requirements for assembly
Printers will increase output 

Made in USA 🇺🇸
PRODUCT SPECS
Length: 48"
Width: 26"
Belt Width: 18"
Belt Drive Power: Single Point Power
Number of Elements: 1
Heater dimensions: 14"x18"
Chamber Length: 18"
Chamber Height: 3"
Entry/Exit Length: Adjustable from 12"-18"
Wattage: 1440
Voltage: 120
Amps: 12.5
Plug Type: Nema 5-15P (standard household plug)
Ships in three boxes
PRODUCT DATA SHEETS
Payment & Security
Your payment information is processed securely. We do not store credit card details nor have access to your credit card information.
Frequently Bought Together
Customer Reviews
Write a Review
Ask a Question
Filter Reviews:
process
size
conveyor dryer
instructions
shirts
types
item
belt speed
search
anyone
08/01/2023
Parker

United States
I recommend this product
Dissatisfied
My dryer came missing very necessary parts, and overall it's just lacking a lot of things that other dryers of the same price offer. Very disappointed
06/25/2023
Chris C.

United States
I recommend this product
Perfect
Small and powerful great for transfers and if you fold the shirts or hoodies right it's a really smooth process
07/27/2023
ScreenPrinting.com
Hey Chris, Glad you like the dryer - it's definitely rad for small shops and also live events.
11/16/2022
Ohaz I.

United States
Fantastic Product
mazing product. Built to order so it Took a little time to get here but well worth the wait. Not a very complicated assembly process. Perfect size and a great piece to accommodate any upcoming aspiring screen printers. Ryonet even called me to thank me for my purchase and to provide me any help I needed on learning how to properly use the conveyor dryer. I have a very high standard for quality and I am also very hard to please, but this conveyor dryer really blew me away. Great product. Would recommend to any other future customers in search of a conveyor dryer. GREAT PRODUCT.!!!
10/10/2022
Allen y.

United States
I recommend this product
Small but mighty
Wow after unboxing this item there were alot of pieces but the instructions were simple and easy to read..this product may seem small in size but packs a punch and is just as good as the other conveyor dryers...I didn't think it. Ould get the job done because of such a small tunnel but thanks to the timing knob which is the speed of the belt it slowed it down enough for my shirts to get a complete cure..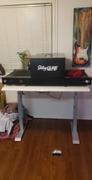 10/11/2022
ScreenPrinting.com
Allen, Thank you for leaving us a review! We are so glad to hear that the table top RileyCure has been so beneficial for you! We cant wait to see where you will go from here. Thanks & Happy Printing! Ryonet Team
09/26/2022
Larry

United States
I recommend this product
Good beginner conveyor dryer
I purchased this dryer because I needed a compact conveyor dryer for my shop space & this one was on sale for a lot less than other ones. I've been using it for a couple of weeks now. It works okay, it's a good beginner & affordable conveyor dryer but I was a little disappointed when I put it together & realized that there isn't a knob or setting for temperature adjustment. You kind of have to gauge the temperature with the belt speed which is kind of a process every-time. The instructions were good, it took about 2.5 hours or so to build by myself. Overall it's a good dryer. I think the missing factor here to make it great would be temperature control. I would recommend this to anyone starting off but if you were printing with different types of ink/fabrics that require low temp settings I would suggest going with a different model that has that option.