Description
Consistent, durable, and made in the USA, Ryonet's Premium Rite Film inkjet transparency film allows screen printers to output films faster, use less ink, achieve ultimate black density and reuse the film positive time and time again.
Features and Benefits
Dimensionally stable film means great registration and no curling.
Quick dry time equals faster production times and less ink usage.
Accurate dot placement results in excellent line definition and acuity.
High ink load capacity.
Great film opacity.
Minimal "yellowing" allows the film to retain the image over time and be used repeatedly.
Size: 13 x 19 in
Quantity: 100 pack
Product Specs:

Caliper/ thickness 5 mil
UV DMIN <1.0
UV DMAX >4.0

Storage Instructions:

Temp 59 - 86° degrees F (15 - 30° C)
Repack opened rolls or boxes when not in use
Allow material to stabilize to room conditions for 24 hours before use

Product Support Information:

Side of the film to print on: waterproof film has two sides, the carrier sheet side and the inkjet receptive side. To determine which side is the inkjet receptive side, dampen your finger and touch a corner of the film, the side that is sticky is the side that will take ink.

Printer Settings for Best Results:

Epson or other inkjet printers: Open your printer utility driver in the print queue menu. Set your image settings to "best quality photo" or "best image", this will enable your printer to print at its max resolution. Set your paper settings to "premium glossy photo paper" or similar, this allows most printers to lay down the maximum amount of ink.

AccuRip Print Settings for Rite Film Waterproof Film:

All black systems w/ AccuRIP:  typically all black systems can run as fast as 720x720 resolution with a 11-13 droplet weight with bidirectional printing turned off. We recommend printing your own droplet weight test to accomplish this.
Payment & Security
Your payment information is processed securely. We do not store credit card details nor have access to your credit card information.
Frequently Bought Together
Customer Reviews
Write a Review
Ask a Question
Filter Reviews:
kindness
Nate Oskar
teammate
advice
mind
equipment
quality
films
notch images
stencil
Affordable, yet high quality
Very affordable pricing for a product that is vital to our business. Crisp prints dry quickly. Paired with our high quality printer and exposure unit, our film output process is spot on and streamlined.
10/30/2020
Ky C.

United States
❤️
11/03/2020
ScreenPrinting.com
Thank you so much for this review, Ky! We're so happy you love it :) Sincerely, Kayli B
04/18/2020
josh r.

United States
Almost gave up
First off I want to thank a teammate of your Nate Oskar. This man has helped me night and day with questions and Advice since I decided to venture into this crazy thing called screen printing. He actually made my Mind up to get the Riley Hopkins 4-2 press. I have since bought so many important equipment for me to do the best job possible. Thank you Nate for the great service and kindness. I'll be talking to you soon bro.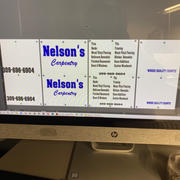 02/28/2020
nakia w.

United States
Rite Film Waterproof film
This film works well it holds the ink and hasn't disappointed yet thank you for a great product. Will purchase again. Also would recommend to a friend or others.
03/18/2020
ScreenPrinting.com
Thanks for your review, Nakia. Happy to see the film is living up to it's name! -Ronald 1-800-314-6390
Not like the film I'm used to using
The film doesn't hold the image very well. The ink is easily lifted off of the film.