Description
Ryo Charge is designed to allow plastisol users to achieve discharge results without needing to invest in a water-based ink system. Simply mix Ryo Charge 50/50 into your high opacity Wilflex Lava Inks, stir thoroughly, add 4%-6% activator (by weight) and print away. Detailed instructions below.
How Discharge Works and Proper Cure
Discharge agent is a compound molecule. That compound is Zinc Formaldehyde Sulfoxylate. The discharge process begins from high heat, either during flashing or curing, breaking apart the activator molecule. Once the activator is in its separate components, the formaldehyde attaches to the fabric dye and breaks the dye molecule. It's this process which removes the color from the garment you are printing on. However, not all dyes react well and are considered "nondischargeable". So check with your garment manufacturer for a dischargeability rating chart.
After the garment dye is removed (this process happens at 250°F) you need to continue to heat up the ink layer and get a FULL cure of your entire ink layer. Even though this is not traditional discharge, we do still need to make sure all of the water has evaporated from the ink layer and that the plastisol ink has reached cure temperature. Each plastisol ink brand has different cure temps, check with your manufacturer.
At the end of the discharge process and during cure, the formaldehyde combines with the sulfur to create an inert molecule. As always, make sure you vent all air from the dryer to the outside. Some people have an itchy or swelling reaction when handling the discharge agent, what they are reacting to is the Sulfur in the activator. About 3% of the population have a sulfur allergy.
As always, test before running production.
EMULSION
Screens must be coated with a water-resistant emulsion, we recommend using an emulsion like Green Galaxy™ CryoCoat. For extended screen life and long print runs it is recommended to post expose the screens and/or use an emulsion hardener like Ryonet® Harden-X.
SQUEEGEE
It is recommended to use a harder squeegee (70 duro or 70/90/70 duro) with discharge inks including Ryo Charge as you want to drive the ink into the garment.
MIXING
Discharge Agent: Should be mixed at 4-6% by weight into the finished mixed ink.
PRINTING
Ryo Charge can be printed through mesh counts ranging from 60-350 mesh. However, it is recommended to print through 156-230 mesh (heavier ink deposits take far longer to cure, as there is still water to evaporate). Use a harder squeegee and use just enough pressure to drive the ink into the fabric.
Always finish your print stroke with a good heavy flood. Print with a squeegee angle between 15°- 25°. For big open spot colorwork, a heavier angle works well. For fine line and halftone work, a sharper angle is best. While there is no need to flash in between colors, you can do so if needed.
If printing spot colors, it is recommended to print the lightest color to the darkest color. Of course, you can change the order to whatever you need.
One thing to always note on with discharge inks. When you have achieved full cure of the garment, you will notice that the ink has a slightly crispy feel to it. This is directly related to the amount of Discharge Activator in the ink. 1% activator will have a very light feel, while 6% will have a much heavier feel.
All of that will go away after the first wash cycle. You will also notice that the ink layer appears thinner after the wash.
WE STRONGLY SUGGEST WASH TESTING AND DOCUMENTING CURE TIMES BEFORE BEGINNING PRODUCTION
WE STRONGLY SUGGEST not to mix Ryocharge with FN plastisol inks.
CLEAN UP
Card off excessive ink and dispose of according to local regulations. Use Sgreen Supreme Wash to help with cleaning up any thick or dried up ink.
Payment & Security
Your payment information is processed securely. We do not store credit card details nor have access to your credit card information.
Frequently Bought Together
Customer Reviews
Write a Review
Ask a Question
Filter Reviews:
experience
60/40
hand feel
quality product
labor
shirt run
activator
tees
cotton
customer
03/05/2021
Dwaynetta T.

United States
I recommend this product
Gonna be using Ryocharge clear base a lot more often!
Great product! I got amazing results and the customers loved the tees!
03/08/2021
ScreenPrinting.com
Hello Dwaynetta! I am so glad Ryocharge was everything you imagined! Do you have any tips for other users? We really appreciate you taking the time to give us your feedback! Happy printing :)
06/17/2020
Greg

United States
I recommend this product
Love this stuff!
I bought this and the activator a couple of months ago. With no experience with the product, I've been testing it and experimenting with it a while. Just ran a 200 shirt run with it yesterday with single color yellow print on cotton black tees and they turned out great!. Saved me time, labor, and definitely gave the customer a higher quality product.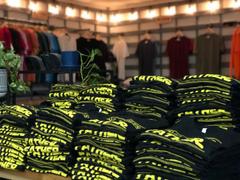 06/17/2020
ScreenPrinting.com
02/10/2021
Chris D.

United States
I recommend this product
Venturing into discharge
Mixed at 50/50 and 60/40 with plastisol, colors are not exact but the results are pretty good with no hand feel
02/10/2021
ScreenPrinting.com
Hello valued Ryonet customer! Thank you for taking the time to reach out and let us know how your experience went using our product! We appreciate any and all feedback! Sincerly, Screenprinting.com
06/19/2020
Anonymous

United States
I recommend this product
Best ink
I use this product exclusively