Description
FN-INK™ helps screen printers that don't have a lot of extra time or money get the most effective and economical plastisol inks, bolstering productivity and saving money in the process.

FN-INK™ is a non-phthalate, ready to use plastisol ink that works great right out of the bucket, and is not a big financial hit to the ole wallet. FN-INK™ was designed by screen printers, for screen printers to be easy to work with. The FN-INK™ line includes 15-ready-to-use colors.
The fact that FN-INK™ easily cures at lower temperatures (260 degrees), means shops can see real gains in production. Financially Necessary Ink was manufactured to be a great ink at a great retail price, day in and day out. Giving printers the peace of mind that their hard earned dollars are getting the best ROI with this FN-INK™.
>> VIEW THE DIGITAL COLOR CARD HERE <<
Did you know that the classic line makes up the FN-INK™ Mixing System? Browse the mixing software to see what colors you can unlock.
FEATURES:
Bold and vibrant colors.
Opaque.
Creamy & Easy to Print Inks.
Soft hand prints.
Limited wet-on-wet printing.
Short flash times, lower cure temperature.
BENEFITS:
Doubles as a ready-to-use plastisol ink and as an ink mixing system.
Its low cure property speeds up production while decreasing electrical costs.
The ink has high opacity, producing bright, vivid prints while maintaining a soft-hand feel.
DETAILS:
For single print colors, colors will reproduce best over white - light substrate or single white base plate on dark substrates. When direct printing over dark cotton, print-flash-print using lower mesh screens.
CURING INSTRUCTIONS:
Flash at 180-200°F, for 3 - 5 seconds. Each shop's operating parameters might be faster or shorter depending on your production variable. Cure at 260°F, the ink is cured when it hits 260 throughout the entirety of the ink layer.
If you are able to keep temperatures low in your dryer and hit cure temp* closer to 260°, you can keep the dyes in the polyester fabrics from bleeding into your inks. To briefly summarize why this happens, most polyester fabric's dye/temperature is set between 270°-300°. When the polyester thread hits the temperature range again, the dyes return to a gaseous state and are absorbed by the plastisol inks. This is why there are low bleed inks on the market.
But as stated above, if you can cure your ink below the bleed point of the polythread, you do not have to worry about dye migration!
*Cure is attained when the ENTIRE ink layer reaches 260°, meaning that the ink is 260° from the top to the bottom of the ink layer. If you are using a laser gun to read the surface temp, this WILL be misleading. Laser temp guns give you a reflective reading. When tested side-by-side with a donut probe, you will see temperature differences as great as 120°-150° early in the cure cycle (the donut probe accurately measures the contact temperature where the crosshairs reside). As you reach the end of the dryer, those temperatures will get closer together. As a direct result – you will need to read a surface temp as little as 60° above what stated cure temp is and as much as 100° depending on how short your dryer tunnel is and how hot your settings are. This is due to a few things:
The rate that plastisol ink absorbs heat

. Some colors will heat up faster than others as they absorb infrared heat waves more readily.

How hot the ink is when entering the tunnel

. Cooler inks will take longer to heat up, thus taking longer to reach cure.

The thickness of your ink deposit.

As we all know, thicker ink deposits take longer to cure than thinner ink deposits. A longer dwell time is needed to reach full-cure through the whole ink layer. Heat/IR waves take time to penetrate and heat up the ink.
The length of your tunnel

. Curing ink is about temperature and time. It takes time for the entire ink layer to heat up and reach cure temp. The faster and hotter you run, the greater your chance to not reach full cure temp at the bottom of the ink layer.

Cotton garments take longer to heat up compared to polyblends or 100% polyester

. This is due to the absorptive nature of cotton. Cotton soaks up and holds onto water. When putting the shirt through the dryer, the dryer will release the water in the cotton fibers, slowing down how fast ink heats up. This process directly relates to how water based ink heats up and reaches cure, just on a smaller scale.

The quality of your infrared panels.

IR Panels are not created equal. Without diving into the deep details, some panels are more efficient in creating heat within the ink layer than others.
When changing your dryer to low cure temps, follow the recommendations and parameters laid out above and do wash testing to ensure your new dryer settings are reaching full cure.
CLEAN UP:
Ink degrader or press wash.
STORAGE INFORMATION:
Store at 65-90°F (18-32°C), avoiding direct sunlight.
PRODUCT DATA SHEETS
Payment & Security
Your payment information is processed securely. We do not store credit card details nor have access to your credit card information.
Frequently Bought Together
Customer Reviews
Write a Review
Ask a Question
Filter Reviews:
color
shirts
shirt project
blend
yellows
fuchsia
violet color
FN Ink
vibrance
ink brand
08/05/2023
Anonymous

United States
I recommend this product
Very satisfied
It worked well for transfers I will be buying more
08/09/2023
ScreenPrinting.com
Thank you for the review and for being such an amazing customer!
07/01/2023
Anonymous

United States
Outstanding
Outstanding.
07/27/2023
ScreenPrinting.com
It really is outstanding, is it?!
04/29/2023
David G.

United States
I recommend this product
Violet
Too runny but nice color and strong pigment though...Always a good choice for low cure projects.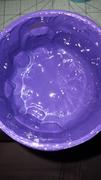 05/01/2023
ScreenPrinting.com
Hey David - Thank you for the review! Glad you're enjoying the low-cure and vibrant colors. We'd like to hear more about your experience with the consistency - we'll reach via email, thanks again!
I recommend this product
violet
its the perfect blend for dark shirts in my opinion
03/23/2023
ScreenPrinting.com
Love this opinion, thank you for your review!
03/13/2023
Brendan R.

United States
I recommend this product
A nice color with great opacity.
This color is constantly used in my shop. Whether it's printed straight or to desaturate yellows for gold, this violet pulls through every time. For a warmer purple I just add a bit of scarlet or fuchsia. Nice work FN-Ink.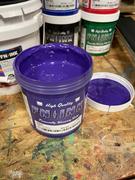 03/16/2023
ScreenPrinting.com
Thank you for the awesome review, this is a gorgeous violet and adding to other colors is a great way to alter hues!