Description
BENEFITS
Catches hazardous waste products, which protects your plumbing and environment
Stopping harmful gunk from going down the drain means printers don't have to worry about paying for a plumber to fix their pipes
Helps printers maintain an eco-friendly shop
The Sgreen® Filtration System is an ink filtration system designed to remove harmful waste solids from the screen cleaning process while protecting your plumbing and the environment from harmful byproducts. Even when using eco-friendly inks and chemicals, the screen cleaning and reclaiming process can cause harmful solids to be flushed down the drain. Placing the Sgreen® Filtration System under your washout booth will filter out these waste products from your water and allow you to run a greener shop with a cleaner conscience.

The Sgreen® Filtration system catches the water as it comes out of the sink, sending it through six stages of filtration for the optimal clean water. The first stage is a disposable filter which catches all of the big particles immediately; then the water goes through a series of three reusable screens: 86, 156, and 200 mesh. The filtered water then flows into a pump holding tank where a high powered industrial sump pump is triggered, pushing the water through the final two stages: a 70 micron and 20 micron filter. With this six stage filtering process, you can be confident that the water has been filtered multiple times, most solids have been removed, and any remaining particulate has been reduced to 20 microns, giving you clean water and a true eco-friendly screen cleaning process.
CHECK OUT THE SGREEN PRODUCT CATALOG
FEATURES
Cleans harmful byproducts from waste water.
Six-stage water filtering process catches waste ranging from the largest emulsion pieces to the tiniest ink particles.
Recommended for shops running a single auto, or working with up to 100 screens per day.
Increased volume or usage will require more frequent cleaning of the system.
Great solution for the end of a Lotus/Auto-reclaimer once the solids are initially removed.
Recommended to always practice smart ink management.
Stainless steel casing.
Six filters, ranging from a 86 mesh screen to 20 microns.
Reservoir holds approximately 22 US Gallons (while operating)
Pump flow rate (without restriction): 36 gallons per minute
Drain pipe size needed: 1-1/2"
REPLACEMENT FILTERS

ASSEMBLED DIMENSIONS

32"L x 21"W x 20"H with wheels
PRODUCT DATA SHEETS
Payment & Security
Your payment information is processed securely. We do not store credit card details nor have access to your credit card information.
Frequently Bought Together
Customer Reviews
100
reviewers would recommend this product
Write a Review
Ask a Question
Filter Reviews:
unit
filtration system
stages
disposal
environment
investments
screens
issue
inks
cleaning
11/14/2019
Jay T.

United States
It works well, clean out process is a pain in the neck
The filtration unit works as intended and does exactly what it's supposed to. However, when designing the unit it doesn't seem much thought went into the cleaning process. You have to clean the screens used in the unit, however, there isn't any convenient way to do it. If you plan to reclaim them in your washout, then there's nothing filtering the runoff from you cleaning them and they're not in the unit. Like I said it works exactly as it's supposed to and filters your runoff from your wash out booth, but it very inconvenient to clean. So it's either you figure out a process to clean the screens or you end up buying new screens each time.
Amazing product!
I've had this product for about 5-6 months now and I've been very pleased with it. We recently moved our shop to a building i own(mortage) and do not lease. Being a screen printer for 14 years now I've seen the havoc that a washout booth will do to your plumbing. I ordered this product with the sump pump and I've been very pleased with it. I clean roughly 20-30 screens a week and end up cleaning the system about every 3-5 weeks. simply take out the screens and use a transfer tape squeegee to get the gunk into a plastic bag. The first set of micro filters lasted me about 4-5 months. I've replaced them with the included second set of filters... I did rinse the micro filters at the same time that I clean the filter screens, to get a little extra life out of them.. This system is great, it does require a little maintenance when you really just want to be doing something else. But the amount of "gunk" this will keep out of your plumbing is amazing. Also it's good for town water supply. Save your self from having to pay a plumber our fees from your local water supply.
Go Green!
Never did it cross my mind that one of my first investments in purchasing screen printing equipment would be a filtration system. I've always felt uncomfortable wondering how our environment can be impacted by improper disposal of unfiltered inks and chemicals. Thanks to the 6 stages of filtration this unit has to offer, I feel better about doing my part in preserving our environment...and you should too!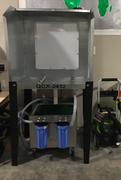 01/13/2023
Mark R.

United States
I recommend this product
Purchased
I have purchased 2 of these for my new shop. I can't wait to use them in 2023
09/21/2022
TED E.

United States
I recommend this product
CLEANING/MAINTENANCE
I think this filtration system is great, but as many have said, there just isn't really a good way to clean out the filtration screens, and the times in which I have been particularly busy, and needed to clean many many screens, I find that this is an issue....the screens get blocked and clogged up fairly quick. With that said, I honestly don't know what the solution to cleaning would be....I mean the gunk has to go somewhere right? It would be convenient if the screens (and unit) were a more standard size, so that you could just use screens you already have, that may be on their way out.