Description
The squeegee: an essential part of any manual printer's arsenal. Whether you're pushing or pulling a squeegee, it's a vital part of the printing process. 
All ScreenPrinting.com squeegees are made from high-quality polyurethane blades. ScreenPrinting.com offers five different types of squeegee durometer: 60 durometer (white), 70 durometer (green), 80 durometer (gray), 65/90/65 triple durometer (red and white), and 70/90/70 triple durometer (green and white or yellow and white). 
Durometer is the measurement of the "hardness" of the squeegee blade. The durometer directly affects how much ink a single print stroke will allow being deposited on the garment. In general, soft squeegees leave a thicker ink deposit, while hard squeegees deposit a thinner amount.
DUROMETERS EXPLAINED 
Durometer is the measurement of the "hardness" of the squeegee blade. The durometer directly affects how much a single print stroke will deposit ink on the garment. Here's a quick guide on the purpose of each durometer: 
60 durometer is one of the softest blades and allows for a thicker ink deposit through lower mesh counts. It's ideal for special effects like puff, high density, glitters, and shimmers.
70 durometer is by most popular and versatile in the garment industry. It's a general-purpose blade for just about everything.
80 durometer is stiff and will shear the ink layer quickly, leaving a minimal ink deposit. This durometer is best for designs going through higher mesh counts with lots of fine details and halftones where a think ink deposit is needed for design clarity.
65/90/65 squeegees are a perfect choice for printing HSA water-based inks of all kinds or when working with plastisol inks that require a thicker ink deposit. When working with water-based inks or thicker plastisols (like white ink or gels), the soft edge allows for an optimal ink deposit while the stiff 90-duro spine gives you greater control over the flex.
70/90/70 triple durometer has the benefits of the 70 durometer blade edge, which creates a good deposit of ink. With the 90 durometer as the spine, you'll experience more significant pressure applied during printing with minimal squeegee blade deflection. The triple durometer allows more ink to be laid down than an 80 durometer blade. This is a popular choice for many screen printers, as it has the flexibility of a 70 durometer squeegee with the shearing capacity of a higher durometer blade.
MAINTENANCE 
When printing long runs, monitor production time and rotate squeegees frequently. By doing so, you will achieve a more uniform print quality and increase the lifespan of the squeegees. 
A squeegee should be cleaned and dried once it's no longer in production. Store squeegees in a dry environment at room temperature. The blade should be allowed to recover from the ink and solvent, resting for a period of 24 hours. It can then be placed back into production, or if necessary, re-sharpened with a sharpening tool and put back into production.
STORAGE
Polyurethane squeegees should always be stored flat in a dry (50% relative humidity) environment at room temperature — approximately 60-70°F. Storing squeegees in a dedicated space, such as a storage rack, will keep your shop organized and create optimally space-saving squeegee storage. 
Storage at temperatures below 60°F may become stiffer since the blade will be cold. This has no influence on the polyurethane's physical properties or performance. Under these storage conditions, the shelf life of the squeegee is approximately one year. Older squeegees often show decreased printing performance. As the rubber of the squeegee blade ages, it may split or begin to show nicks in the material. The blade may also become more rigid or more flexible than desired for that durometer.
Pro Tip: Avoid storing squeegees blade-first. This can cause the blade to bend or deform, decreasing the performance of the squeegee and causing print consistency issues. 
Payment & Security
Your payment information is processed securely. We do not store credit card details nor have access to your credit card information.
Frequently Bought Together
Customer Reviews
100
reviewers would recommend this product
Write a Review
Ask a Question
Filter Reviews:
squeegee
life
inks
shipping
shop
press
PRAISE JESUS
face
meth
daughter
07/25/2023
Chris

United States
I recommend this product
My favorite
This is a great squeegee. I have used several different types and this is honestly my go to squeegee 99% of the time. Highly recommend
07/27/2023
ScreenPrinting.com
THe 80 durometers can take a lot of pressure! Glad you like them!
04/10/2023
Joe S.

United States
I recommend this product
Sturdy Squeegee
Great squeegee! I've been using the 14 inch 80 duro for printing blank ink on tees since the black is a bit thinner than the white inks. Super easy to clean as well!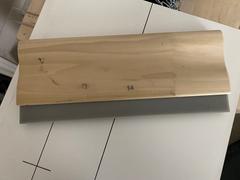 04/10/2023
ScreenPrinting.com
Hey Joe, thank you for the stellar review! 80 durometer can be great for printing on paper as well!
08/01/2022
Anonymous

United States
I recommend this product
Fabulous
I needed a firm squeegee to get a fine detail print on a job and this was perfect. Quick shipping, great product, will absolutely order more of these.
08/24/2022
ScreenPrinting.com
Hey thanks for the fabulous review and great feedback on your experience with the new squeegee and shipping! Happy printing :)
07/23/2021
Anonymous

United States
I recommend this product
My new process squeegees
I haven't used them yet, I'm getting back into screen printing after years! Still have my equipment and have dusted it off, set it up and getting my space ready. My daughter and I are starting an online store of original equine, gardening and kids T's. I can't really recommend the squeegees yet, but I bought all of my equipmet from Ryonet very many years ago and everything is still in great working order, and it has always served me well.
07/23/2021
ScreenPrinting.com
Hey Magick Barn, Thank you for leaving us your feedback! It is nice to hear when a long time customer has had a great experience with our equipment. I hope the squeegee does you well! Happy printing :) - cstake@ryonet.com
12/03/2020
Anonymous

United States
I recommend this product
80 Durometer aqueegee
Ideal for white ink! THese work great!
12/05/2020
ScreenPrinting.com
Thanks for the review Ricardo! I completely agree. The stiffness of a 80 durometer will help push that stubborn white ink! Matt C