Description
Imagine working for yourself. You set the hours, determine what's the quality standard, choose who you want to print for — you're the boss. Start your screen printing business today with the Riley Hopkins 250 Complete Screen Printing Kit.
Getting a kit makes your life simple. You could pick and choose supplies and equipment, but that takes a lot of time. With a few clicks, you have everything you need to start a print shop.
The kit has everything you need — a press, flash dryer, exposure unit, screens, squeegees, inks, chemicals, and more. Loaded with top-notch equipment and supplies from brands like Riley Hopkins®, Baselayr®, Sgreen®, and FN-INK™, you can count on producing high quality prints right from the start.
Investing in a shop package is an easy, economical way to start up or upgrade a screen printing business. Jumpstart your print shop today with the Riley Hopkins 250 Complete Screen Printing Kit.
INCLUDED IN KIT:
Riley Hopkins 16"x16" Flash Dryer
Supply Kit

21 Step Wedge Exposure Calculator
Eight 20"x24" Baselayr aluminum screens with 156 mesh
Digital laser temperature gun
Three 12" 70 durometer squeegees
Three 8" 70 durometer squeegees
2 Rolls of Green Screen Blockout Tape (2"x36 Yd)
16" Scoop Coater
100 pack of 8.5x11 Baselayr Waterproof Film
Six 10" Goop Scoops
300 pack of Ultimate Cleanup Cards
50 Printing Pellons (25 White & 25 Black)
2 Light Safe Yellow Bulbs

Plastisol Ink Kit

Quart of white FN-INK™
Quart of black FN-INK™
Quart of bright red FN-INK™
Quart of lemon yellow FN-INK™
Quart of kelly green FN-INK™

Chemical Kit

Quart of Baselayr Long Lasting Emulsion
Quart of Sgreen Supreme Wash
Quart of Sgreen Emulsion Stripper
Quart of Sgreen Adhesive
Quart of Sgreen Stuff Dehazer/Degreaser
Quart of Red Coat Blockout

6 Pack of Scrub Pads + 3 Scrub Handles
PRESS FEATURES AND SPECS:
Heavy Duty Center Chassis Construction for Durability and Strength
Indexing/Rotating Platens w/ Roller Wheel Platen Stop
Durable US Steel Construction
All-Black Press
Powder Coated Finish
Riley 300 Locking Levers
Standard XY Micro Registration
Titled Micros for Better Registration
9/16 Tilt and Off-Contact Control (9/16" ratcheting wrench recommended)
Heavy Duty Springs
Adjustable and Interchangeable Riley Hopkins Platens
Diameter: 90"
Platen Height: 12"
Platen Size: 16"x16" w/ Neck
Max Frame Size: 23"x31"
Base Configuration: Bench Mount
Color/ Stations: 6 color / 2 station
FLASH DRYER FEATURES AND SPECS:
Rotating, adjustable stand
Locking casters
360° rotation
Powder-coated to prevent rust
Sturdy, simple design
10-foot power cord
Easy assembly
Watts: 1600
Volts: 120v
Amps: 13.2
Heater Size: 16"x20"
Element Size: 16"x16"
Plug Type: NEMA 5-15P
EXPOSURE UNIT FEATURES & SPECS:
Thick, aluminum compression lid with center stiffening rib
LED 405nm bulb technology
Durable, powder-coated, steel construction
IEC power cord port with an easy-to-access on/off switch
Gas shocks hold the lid in open position 80LB shock
Optically clear, strong, tempered glass
Includes a two-inch foam pad for easy, on-contact exposing
Unit dimensions: 27"(W) x 40"(L) x 9"(H)
Optical clear glass: 25" x 36 ⅜"
Max OD frame size: 25" x 36"
7 T8 LED 405nm tube bulbs designed for screen exposure
UV wattage: 280 watts
Voltage: 115v (standard household current)
On/off functionality
Standard 110v 3-prong plug
FREE SHIPPING! 
*within the contiguous U.S.*
This package ships in 4-6 boxes and one crate. The supplies and equipment may ship from separate locations and might arrive at different times, depending on stock.
Payment & Security
Your payment information is processed securely. We do not store credit card details nor have access to your credit card information.
Frequently Bought Together
Customer Reviews
Write a Review
Ask a Question
Filter Reviews:
press
Ryonet
customer service
something
shirt
registration
platens
knobs
bottom
sides
08/25/2020
Boyd C.

United States
I recommend this product
Amazing press
I bought this about 3 months ago, did some tweaks to the package with the amazing help of Tala! There customer service is top notch, well built and had zero issues with this set up! Was able to pay off my press in less then 3 months due to the quantity of the press and all the Sgreen chemicals are a must!! Thanks Ryonet for all your hard work and great customer service!!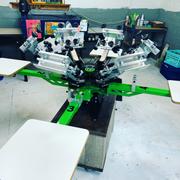 04/03/2020
Persephane L.

United States
6 color 2 station
Love everything but a bit disappointed because I haven't received my press or my light exposure. And I'm so ready to start!!
So far so good...
I've had this press for a couple months now and have printed many shirts. Once I was able to find some videos on registration, i was good to go. Ryonet has a bunch of videos, so I had to really narrow it down. I printed with an old school printer and this press was not what I was used to but I got the hang of it. Thank god for the customer service and techs!!! Ask for extra arms at the time of ordering as this is something you can't upgrade later on. Also, I wish the knobs on the bottom of the platens were a little more flush. When I put a small shirt on the platen it becomes real snug. Speaking of platens, I had to sand down the sides because the shirts were getting caught on the platens. They still do, just not as much since I sanded them. Overall, I am very pleased with my press!
GREAT FOR BEGINNERS LIKE ME!
So I've had my press for a little over a month and I must say, it is a learning curve. I trained with an "old school" printer and his press. Once I received this one, it was way different. I was very pleased that Ryonet was able to customize the press to a 4 station. There's no upgrading later on so you have to ask for that when you order. The garments are a little hard to slip on the platens. The sides are kinda rough. I sanded them down and it helped a little. The knobs on the bottom of the platens makes a small shirt a little snug. Wish they were a little more flush to the arm. The flasher needed to be leveled as it had a significant dip to the front of it. Registration is not that easy and finding the right YouTube video wasn't that easy to find either. But... I found it and it's gotten better. The customer service has been absolutely AMAZING! I've called them about 3 times, all for something different, and they are truly amazing! I gave it 4 stars instead of 5 because of the platens and the knobs. Other than that... For this being MY first press... I'm pretty darn happy...
Ryonet power house
Love it great products at a great price