Idaho's premier screen printing supplier. Great prices and top quality products to suit all of your needs for screen printing in Idaho! Ryonet is the region's leading provider of screen printing supplies, ink, equipment and other related products for your t-shirt design or other screen printing project!
---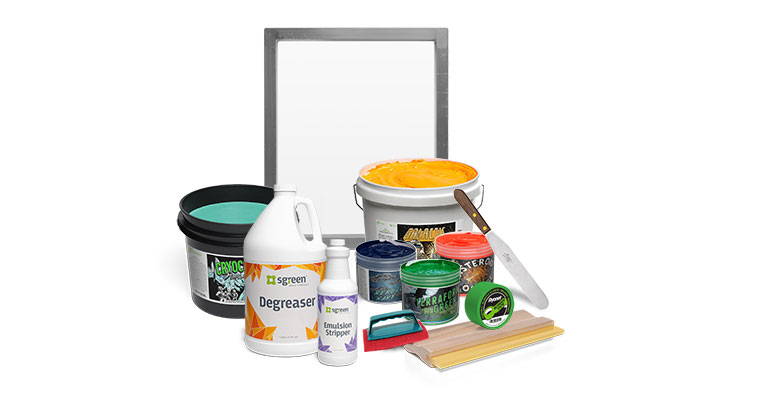 Inks, frames, squeegee and more. Whatever screen printing supplies you need, we have them stocked and ready to ship.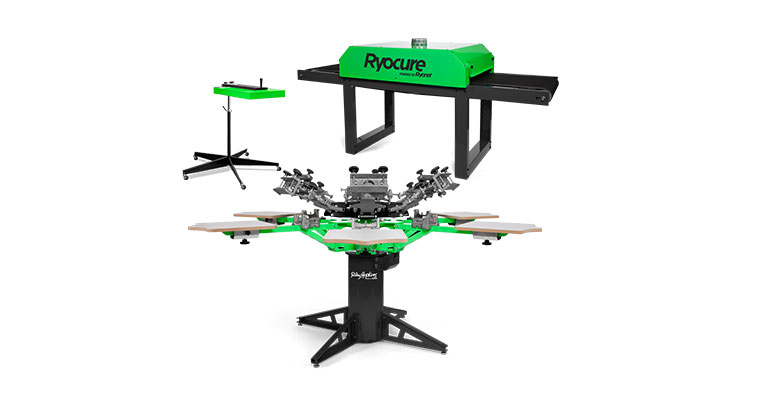 Need a new press, flash or conveyor dryer? We carry the screen printing equipment and machines that printers want.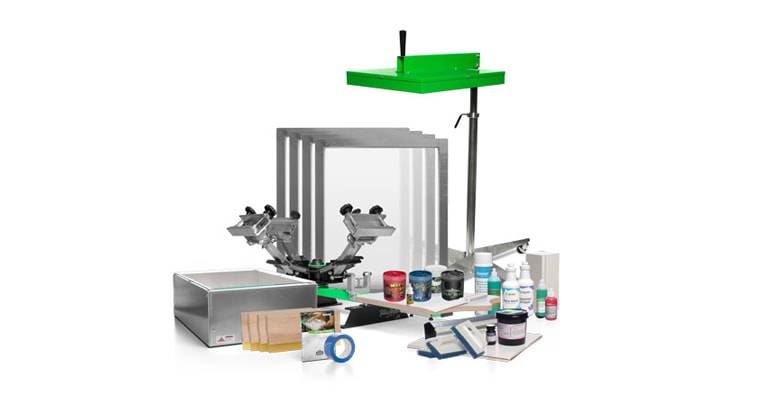 Screen Printing Kits & Packages
Ready to start screen printing? Need a new printing package to take you to the next level? We have kits for ambitions of every size.
---
Top Site Categories
Resources
Top Brands in the Screen Printing Industry!
Ryonet is a leading innovator in the Idaho screen printing industry and we constantly seek to provide the best, emerging and eco-friendly products to our Idaho-based customers! Shop our website for the top brands in the screen printing industry such as BBC, Blackline, CCI, George Knight, Graphtech, Green Galaxy, IC Inks, Riley Hopkins, Rite Film, ROQ Equipment, Ryonet, Sgreen, Solid-Loc, Siser, Sprayway, Stahls and Yudu.
Wide Range of Screen Printing Inks!
We offer a wide range of top quality plastisol, water based inks and output inks. Our plastisol inks include athletic and polyester inks, pantone and mixing inks, process inks, RyOpaque inks, special effects inks and white inks. For water based ink products we offer Allure Galaxy inks, discharge inks, Green Galaxy inks, WB pantone and mixing inks, and WB Fusion mixing systems. Additionally we sell BlackMax output inks.
Large Selection of Films, Emulsions and Transfers!
Ryonet also provides Idaho businesses, professionals, screen printing hobbyists and t-shirt designers with a large selection of films, emulsions, and transfers. Laser and inkjet waterproof films are available, as well as heat transfers, heat press equipment, transfer paper, and vinyl heat transfers.
High Quality Screen Printing Frames and Supplies!
Frames and related supplies are critical to the success of your screen printing business or t-shirt projects in Idaho. Ryonet Screen Printing offers high quality frames and other supplies including aluminum screens, scoop coaters, solid-locs, wood screens, squeegees, blades and tape. We also sell mesh by the yard.
The Best Screen Printing Presses and Equipment in the Industry!
In addition to inks, frames and other supplies, we sell all of the screen printing equipment you need to run your Idaho-based business. We offer the best screen printing presses available in the industry including Riley Hopkins Presses, RileyROQ Presses, ROQ Automatic Presses, and DIY Presses. And look to Ryonet Screen Printing for your automatic equipment, BlackMAX output printers, conveyer dryers, dip tanks, dark rooms, exposure units, flash dryers, heat transfer presses, screen racks and carts, vinyl cutters and platters, washout booths, aluminum and wood platens.
Full Line of Screen Cleaning Supplies and Chemicals!
We all know that printing and screening is only half the battle! The cleanup side of the screen printing process isn't always the most fun, but Ryonet has the backs of Idaho businesses, screen printers, and t-shirt designers! We offer a full line of cleaning chemicals, aerosols, scoop coaters and Sgreen chemicals to help you finish the job with ease.
All Supply Orders Over $175 Ship to Idaho for Free!
Many orders fit within our 1 and 2 day ship zones. Plus all supply orders over $175 ship free in Idaho, whether you live in Boise City, Nampa, Meridian, Idaho Falls, Pocatello, Caldwell, Coeur d'Alene, Twin Falls, Saint Maries, Lewiston, Post Falls, Rexburg, Moscow, Eagle, Kuna, Ammon, Chubbuck, Hayden, Mountain Home, Blackfoot, Garden City, Jerome, Burley, Hailey, Sandpoint, Payette, Star, Rathdrum, Emmett, Middleton, Rupert, Weiser, Preston, Fruitland, Shelley, American Falls, Buhl, Rigby, Kimberly, Gooding, St. Anthony, Fort Hall, Heyburn, Grangeville, Mountain Home AFB, Orofino, Salmon, McCall, Soda Springs, Lincoln, Ketchum, Wendell, Filer, Homedale, Montpelier, Bonners Ferry, Dalton Gardens, St. Maries, Bellevue, Hidden Spring, Parma, Kellogg, Spirit Lake, Malad City, Iona, Aberdeen, Victor, Priest River, Driggs, Wilder, Pinehurst, New Plymouth, Robie Creek, Osburn, Shoshone, Moreland, Sun Valley, Sugar City, Kamiah, Marsing, Glenns Ferry, Hansen, Paul, Lapwai, Ponderay, Tyhee, Ucon, Riverside, Ashton, Challis, Plummer, Genesee, Cascade, Cottonwood, Grace, Arco, Troy, Greenleaf, Inkom, Hagerman, Council, Groveland, Potlatch, McCammon, Oakley, Kootenai, Wallace, Menan and Hazelton, Franklin, Arbon Valley, Teton, Moyie Springs, Athol, Hauser, Mullan, Horseshoe Bend, Ririe, Downey, Dover, Kooskia, Smelterville and Carey, Dubois, Hayden Lake, Juliaetta, Roberts, Notus, Clark Fork, Melba, Paris, Deary, Craigmont, Pierce, Richfield, Mackay, Lewisville, New Meadows, Firth, Georgetown, Nezperce, Dayton, Idaho City, Rockford, Weston, Grand View, Riggins, Weippe, Lava Hot Springs, Eden, Basalt, Fairfield, Culdesac, Bancroft, Mud Lake, Arimo, Declo, Winchester, Dietrich, Cambridge, Newdale, Bliss, Kendrick, Parker, Rockland, Clifton, Bennington, Hollister, Island Park, Albion and Tetonia, Bovill, Worley, Rockford Bay, Castleford, Stites and Irwin, Swan Valley and Harrison, East Hope, Bloomington, Elk City, Peck, Malta, Onaway, Wardner, De Smet, Oldtown, Moore and Fernan Lake Village, Smiths Ferry, Midvale, Ferdinand, Crouch, Blanchard and Garden Valley, Donnelly, Sweetwater, St. Charles, Acequia, Tensed, Elk River and Murtaugh, Minidoka, Leadore, Huetter, Yellow Pine, White Bird, Hope, Murphy, Reubens, Stanley, Butte City, Princeton, Parkline, Placerville, Hamer and Conkling Park, Oxford, State Line, Spencer, Atomic City, Lost River, Lowman, Drummond, Banks, Clayton, Warm River or any other city or town in Idaho!