South Carolina's premier screen printing supplier. Great prices and top quality products to suit all of your needs for screen printing in South Carolina! Ryonet is the region's leading provider of screen printing supplies, ink, equipment and other related products for your t-shirt design or other screen printing project!
---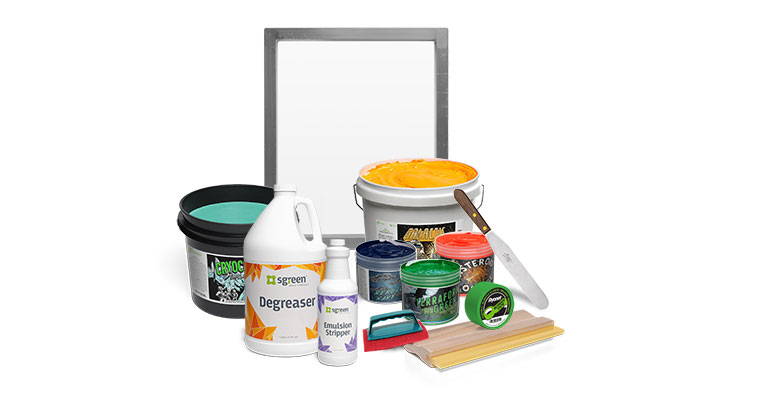 Inks, frames, squeegee and more. Whatever screen printing supplies you need, we have them stocked and ready to ship.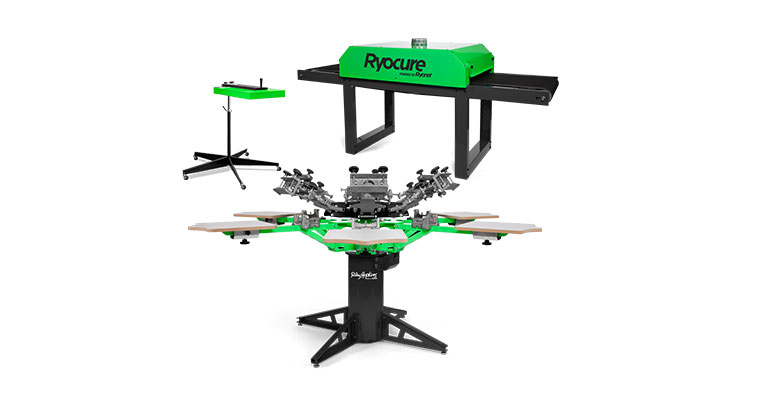 Need a new press, flash or conveyor dryer? We carry the screen printing equipment and machines that printers want.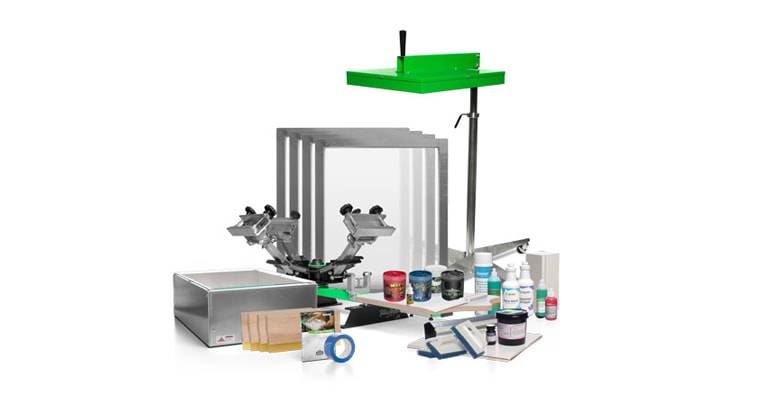 Screen Printing Kits & Packages
Ready to start screen printing? Need a new printing package to take you to the next level? We have kits for ambitions of every size.
---
Top Site Categories
Resources
Top Brands in the Screen Printing Industry!
Ryonet is a leading innovator in the South Carolina screen printing industry and we constantly seek to provide the best, emerging and eco-friendly products to our South Carolina-based customers! Shop our website for the top brands in the screen printing industry such as BBC, Blackline, CCI, George Knight, Graphtech, Green Galaxy, IC Inks, Riley Hopkins, Rite Film, ROQ Equipment, Ryonet, Sgreen, Solid-Loc, Siser, Sprayway, Stahls and Yudu.
Wide Range of Screen Printing Inks!
We offer a wide range of top quality plastisol, water based inks and output inks. Our plastisol inks include athletic and polyester inks, pantone and mixing inks, process inks, RyOpaque inks, special effects inks and white inks. For water based ink products we offer Allure Galaxy inks, discharge inks, Green Galaxy inks, WB pantone and mixing inks, and WB Fusion mixing systems. Additionally we sell BlackMax output inks.
Large Selection of Films, Emulsions and Transfers!
Ryonet also provides South Carolina businesses, professionals, screen printing hobbyists and t-shirt designers with a large selection of films, emulsions, and transfers. Laser and inkjet waterproof films are available, as well as heat transfers, heat press equipment, transfer paper, and vinyl heat transfers.
High Quality Screen Printing Frames and Supplies!
Frames and related supplies are critical to the success of your screen printing business or t-shirt projects in South Carolina. Ryonet Screen Printing offers high quality frames and other supplies including aluminum screens, scoop coaters, solid-locs, wood screens, squeegees, blades and tape. We also sell mesh by the yard.
The Best Screen Printing Presses and Equipment in the Industry!
In addition to inks, frames and other supplies, we sell all of the screen printing equipment you need to run your South Carolina-based business. We offer the best screen printing presses available in the industry including Riley Hopkins Presses, RileyROQ Presses, ROQ Automatic Presses, and DIY Presses. And look to Ryonet Screen Printing for your automatic equipment, BlackMAX output printers, conveyer dryers, dip tanks, dark rooms, exposure units, flash dryers, heat transfer presses, screen racks and carts, vinyl cutters and platters, washout booths, aluminum and wood platens.
Full Line of Screen Cleaning Supplies and Chemicals!
We all know that printing and screening is only half the battle! The cleanup side of the screen printing process isn't always the most fun, but Ryonet has the backs of South Carolina businesses, screen printers, and t-shirt designers! We offer a full line of cleaning chemicals, aerosols, scoop coaters and Sgreen chemicals to help you finish the job with ease.
All Supply Orders Over $175 Ship to South Carolina for Free!
Many orders fit within our 1 and 2 day ship zones. Plus all supply orders over $175 ship free in South Carolina, whether you live in Columbia, Charleston, North Charleston, Mount Pleasant, Rock Hill, Greenville, Summerville, Sumter, Goose Creek, Hilton Head Island, Florence, Spartanburg, Aiken, Myrtle Beach, Greer, Anderson, Mauldin, Taylors, Greenwood, North Augusta, St. Andrews, Easley, Socastee, Conway, Simpsonville, Lexington, Hanahan, Wade Hampton, Five Forks, West Columbia, Seven Oaks, Ladson, Bluffton, North Myrtle Beach, Clemson, Gantt, Red Hill, Berea, Dentsville, Orangeburg, Beaufort, Fort Mill, Cayce, Gaffney, Parker, Irmo, Port Royal, James Island, Forest Acres, Oak Grove, Newberry, Lake Wylie, Woodfield, Moncks Corner, Little River, Laurens, Red Bank, Tega Cay, Georgetown, Lancaster, Bennettsville, Garden City, Sangaree, Clinton, Boiling Springs, Seneca, Fountain Inn, Union, Lugoff, York, Murrells Inlet, Hartsville, Sans Souci, Powdersville, Camden, Marion, Centerville, Lake City, Dillon, Homeland Park, Laurel Bay, Darlington, Burton, Welcome, Valley Falls, Cheraw, Clover, Belvedere, Chester, Lake Murray of Richland, Batesburg-Leesville, Piedmont, Walterboro, Abbeville, Central, Travelers Rest, Hollywood, Hardeeville, Edgefield, Barnwell, Forestbrook, Mullins, Dalzell, Clearwater, Southern Shops, Isle of Palms, Northlake, Belton, Brookdale, Walhalla, Surfside Beach, Woodruff, Ridgeland, Williamston, Manning, Dunean, India Hook, Newport, Honea Path, Saluda, Saxon, Bamberg, Winnsboro, Lyman, Denmark, Bishopville, Duncan, East Gaffney, Hopkins, Liberty, North Hartsville, Allendale, Kingstree, Pickens, Arcadia, Gloverville, Pendleton, Williston, Privateer, Lakewood, Andrews, Elgin Cdp, Burnettown, Springdale Town, Pageland, Arial and Folly Beach, Graniteville, McCormick, Hampton, Ravenel, Loris, Wellford, Wilkinson Heights, Blythewood, Westminster, Landrum, Slater-Marietta, Lesslie, Shell Point, Timmonsville, South Congaree, Johnston, Edisto, Blackville, Pacolet, Cherryvale, Cowpens, Inman, Springdale Cdp, Bonneau Beach, Pine Ridge, Ware Shoals, South Sumter, St. George, Golden Grove, New Ellenton, Varnville, McColl, Roebuck, Inman Mills, Ninety Six, Judson, Estill, St. Matthews, Kershaw, Calhoun Falls, Ridgeville, Great Falls, Fairfax, Sullivan's Island, Blacksburg, Monarch Mill, Tigerville, Seabrook Island, St. Stephen, Jackson, Watts Mills, Fairforest, Winnsboro Mills, Kiawah Island, Gadsden, Gaston, Murphys Estates, Stateburg, Eureka Mill, Chapin, Johnsonville, City View, Chesterfield, Whitmire, Catawba, Elgin Town, Lake Secession, Joanna, Buffalo, Awendaw, Irwin, Latta, Wedgefield, Meggett, East Sumter, Oakland, Iva, Due West, Holly Hill, Utica and Pamplico, Mayo, Lincolnville, Prosperity, Cane Savannah and Langley, Startex, Branchville, Yemassee, Lamar and Summerton, Warrenville, Quinby, Pinopolis and Santee, Bowman, West Pelzer, Chesnee, Swansea and Wallace, Jonesville, Arcadia Lakes, Fort Lawn, Heath Springs, Scranton, McBee, Converse, Gayle Mill, Enoree, Eastover, Wagener, Norris and Turbeville, Gray Court, Lake View, Bucksport, Coward, North, Jefferson, Ridge Spring, Cottageville, Mayesville, Promised Land, Pelion, Clio, Elloree and Harleyville, Six Mile, Fair Play, Russellville, Aynor, Reidville, Gilbert and Alcolu, Olanta, Society Hill, Sharon, Pinewood, Brunson, McClellanville, Campobello, Ehrhardt, Briarcliffe Acres, Springfield, Bonneau, Cross Hill, Jacksonboro, Lane, Hickory Grove, Lockhart, Mulberry, Hemingway, Hilda, Summit, Cameron, Carlisle, Salley, Edisto Beach, Greeleyville, Lydia, Neeses, Atlantic Beach, Nichols, Lynchburg, Ruby, Patrick, Donalds, Bethune, Norway, Clifton, Ridgeway, West Union, Eutawville, Rowesville, Little Mountain, Gifford, McConnells, Richburg, Snelling, Olar, Clarks Hill, Perry, Stuckey, Monetta, Riverview, Furman and Rembert, Central Pacolet, Sellers, Cross Anchor, Modoc and Scotia, Reevesville, Lowrys, Mount Croghan, Kline, Trenton, Elko, Starr, Paxville, Woodford, Pomaria, Vance and Sycamore, Cordova, Silverstreet, Waterloo and Glendale, Bradley, Hodges, Mount Carmel and Blenheim, Salem, Rockville, Cokesbury, Livingston, Willington, Coronaca and Shiloh, Luray and Smoaks, Lowndesville, Windsor, Antreville, Lodge, Williams, Boykin, Parksville, Pawleys Island, Troy, Ward, Pelzer, Mountville, Ware Place, Ulmer, Plum Branch, Jamestown and Cope, Tatum, Newry, Peak, Govan and Oswego, Princeton, Islandton, Smyrna, Jenkinsville, Fingerville or any other city or town in South Carolina!