Vermont's premier screen printing supplier. Great prices and top quality products to suit all of your needs for screen printing in Vermont! Ryonet is the region's leading provider of screen printing supplies, ink, equipment and other related products for your t-shirt design or other screen printing project!
---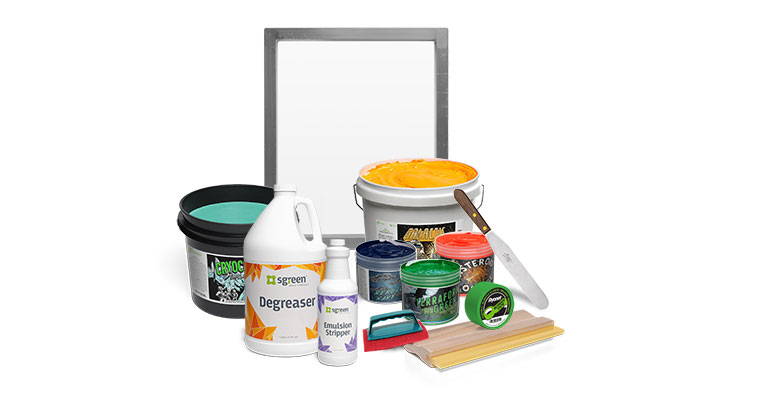 Inks, frames, squeegee and more. Whatever screen printing supplies you need, we have them stocked and ready to ship.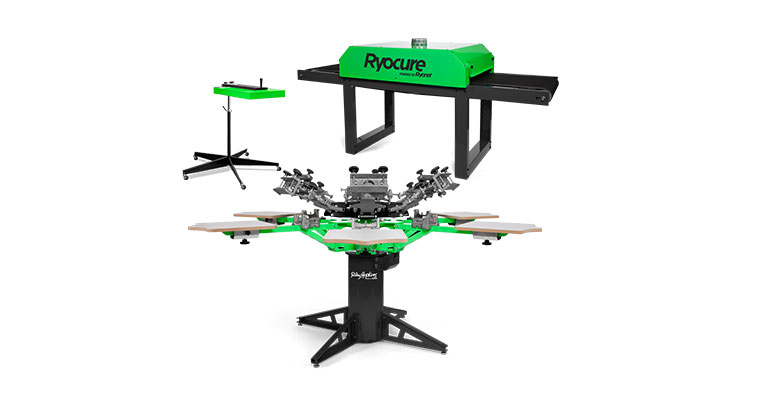 Need a new press, flash or conveyor dryer? We carry the screen printing equipment and machines that printers want.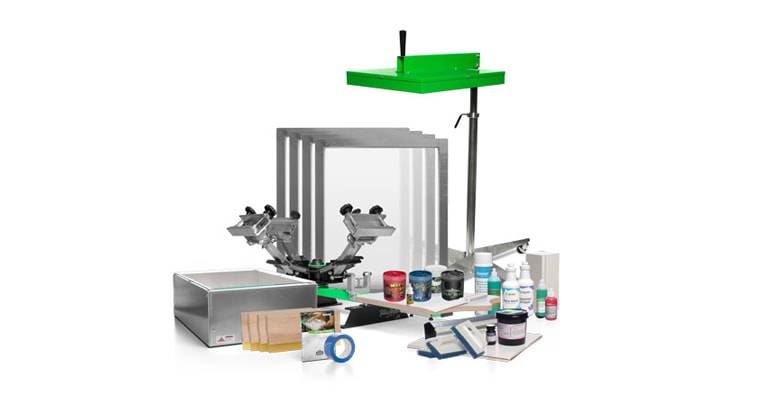 Screen Printing Kits & Packages
Ready to start screen printing? Need a new printing package to take you to the next level? We have kits for ambitions of every size.
---
Top Site Categories
Resources
Top Brands in the Screen Printing Industry!
Ryonet is a leading innovator in the Vermont screen printing industry and we constantly seek to provide the best, emerging and eco-friendly products to our Vermont-based customers! Shop our website for the top brands in the screen printing industry such as BBC, Blackline, CCI, George Knight, Graphtech, Green Galaxy, IC Inks, Riley Hopkins, Rite Film, ROQ Equipment, Ryonet, Sgreen, Solid-Loc, Siser, Sprayway, Stahls and Yudu.
Wide Range of Screen Printing Inks!
We offer a wide range of top quality plastisol, water based inks and output inks. Our plastisol inks include athletic and polyester inks, pantone and mixing inks, process inks, RyOpaque inks, special effects inks and white inks. For water based ink products we offer Allure Galaxy inks, discharge inks, Green Galaxy inks, WB pantone and mixing inks, and WB Fusion mixing systems. Additionally we sell BlackMax output inks.
Large Selection of Films, Emulsions and Transfers!
Ryonet also provides Vermont businesses, professionals, screen printing hobbyists and t-shirt designers with a large selection of films, emulsions, and transfers. Laser and inkjet waterproof films are available, as well as heat transfers, heat press equipment, transfer paper, and vinyl heat transfers.
High Quality Screen Printing Frames and Supplies!
Frames and related supplies are critical to the success of your screen printing business or t-shirt projects in Vermont. Ryonet Screen Printing offers high quality frames and other supplies including aluminum screens, scoop coaters, solid-locs, wood screens, squeegees, blades and tape. We also sell mesh by the yard.
The Best Screen Printing Presses and Equipment in the Industry!
In addition to inks, frames and other supplies, we sell all of the screen printing equipment you need to run your Vermont-based business. We offer the best screen printing presses available in the industry including Riley Hopkins Presses, RileyROQ Presses, ROQ Automatic Presses, and DIY Presses. And look to Ryonet Screen Printing for your automatic equipment, BlackMAX output printers, conveyer dryers, dip tanks, dark rooms, exposure units, flash dryers, heat transfer presses, screen racks and carts, vinyl cutters and platters, washout booths, aluminum and wood platens.
Full Line of Screen Cleaning Supplies and Chemicals!
We all know that printing and screening is only half the battle! The cleanup side of the screen printing process isn't always the most fun, but Ryonet has the backs of Vermont businesses, screen printers, and t-shirt designers! We offer a full line of cleaning chemicals, aerosols, scoop coaters and Sgreen chemicals to help you finish the job with ease.
All Supply Orders Over $175 Ship to Vermont for Free!
Many orders fit within our 1 and 2 day ship zones. Plus all supply orders over $175 ship free in Vermont, whether you live in Burlington, Essex, South Burlington, Colchester, Rutland City, Bennington, Brattleboro, Milton, Essex Junction, Hartford, Springfield, Williston, Barre City, Middlebury, Barre Town, Shelburne, Montpelier, St. Johnsbury, Winooski, St. Albans City, Swanton Town, St. Albans Town, Northfield Town, Lyndon, Morristown, Rockingham, Waterbury Town, Jericho, Randolph, Georgia, Castleton, Fairfax, Derby, Hinesburg, Newport City, Stowe, Manchester Town, Richmond, Rutland Town, Bristol, Brandon, Charlotte, Cambridge Town, Highgate, Shaftsbury, Johnson Town, Pownal and Windsor, Norwich, Williamstown, Hartland, Poultney Town, Westminster Town, Chester, Underhill, Bellows Falls, Hyde Park Town, Woodstock Town, Hardwick, Pittsford, Berlin, Weathersfield, Ferrisburgh, Royalton and Bradford, Enosburgh, Barton Town, Putney, Fair Haven, East Montpelier, Vergennes, Thetford, Clarendon, Swanton Village, Richford, Arlington, West Rutland, Sheldon, Danville, Newbury Town, Vernon, Guilford, Westford, Grand Isle, Northfield Village, Monkton, Wallingford, Newport Town, Morrisville, Bethel, Alburgh Town, Dorset, Huntington, Ludlow Town, Fairfield, Wilmington, Dummerston, Waterbury Village, Starksboro, Middlesex and Londonderry, New Haven, Burke, Waitsfield, Wolcott, Berkshire, Warren, Newfane Town, Barnet, Proctor, Moretown, South Hero, Troy and North Bennington, Calais, Poultney Village, Marshfield Town, Sharon, Cabot, Johnson Village, Pawlet, Franklin, Corinth, Addison, Cavendish, Bakersfield, Eden, Fayston, Whitingham, Duxbury, Fletcher and Enosburg Falls, Brookfield, Danby, Tunbridge, Waterford, Shoreham and Lincoln, Lunenburg, Plainfield, Orwell, Chelsea, Chittenden, Braintree, Mount Holly, Bridport, Townshend, Concord, Lyndonville, Montgomery, Bolton, Cornwall, Brighton, Craftsbury, Topsham, Ryegate, Irasburg, Wells, Salisbury, Rochester, Leicester, Dover, Strafford, Glover, West Windsor, Orange, Marlboro, Coventry, Mendon, Benson, Shrewsbury, Washington, Jamaica, Sutton, Groton, Charleston, Worcester, Fairlee, Brownington, Sunderland, Canaan, Walden, Barnard, Bridgewater, Albany Town, Woodbury, Pomfret, Wardsboro, Woodstock Village, Elmore, Lowell, Weybridge, Stamford, Wheelock, North Hero, Killington and Ludlow Village, Orleans, Winhall, Jeffersonville, Greensboro, Readsboro and Morgan, Peacham, Middletown Springs, Stockbridge, Manchester Village, Halifax, Vershire, Barton Village and St. George, Rupert, Sheffield, Hubbardton, Roxbury and Waterville, Panton, Grafton, West Fairlee, Reading and Derby Line, Holland, Plymouth, Tinmouth, North Troy, Ripton, Newark, Derby Center, Weston, Saxtons River, Jay, Sudbury, Pittsfield, Westfield and Brookline, Kirby and Alburgh Village, Hyde Park Village, Andover and Waltham, Isle La Motte, Athens, Ira, Whiting, Windham, Woodford, Sandgate, Wells River, Peru, Newbury Village, Belvidere, Westmore, West Burke, Hancock, Granville, Westminster Village and East Haven, Marshfield Village, West Haven, Mount Tabor, Baltimore and Guildhall, Cambridge Village, Stannard, Jacksonville, Bloomfield, Stratton, Maidstone, Albany Village, Goshen, Norton and Landgrove, Old Bennington, Perkinsville, Newfane Village, Brunswick, Searsburg, Lemington, Granby, Victory or any other city or town in Vermont!