Description
The Semi-Pro™ Plus Screen Printing Kit combines the Riley Hopkins 250 4 color 2 station press with more supplies and options to provide you a complete multiple color screen printing kit that can crank out some shirts! 
The 250 builds on the success of its predecessor, the Riley Jr., with major improvements. Most notable is the addition of tilted micros. The tilted micros ensures screens stay in place during production, minimizing the worries of accidentally bumping the screen out of registration mid-production. The 250 now also has locking levers, the same as the 300 press. The locking levers make it easier to tighten and loosen registration, enhancing the precision of registration while lessening the stress on your wrists. Lastly, the 250 is all black! That's right, we're back in black.
Designed with the aspiring screening printer in mind, the Semi-Pro Plus package provides you with everything you need to print fairly large quantities of 1-4 color t-shirt designs. Taking advantage of the second printing station allows you to print and cure shirts at the same time and cuts your production time in 1/2 when compared to a 1 station press. This fairly compact press is also easy to set up, register and can fit into almost any space requirement. 
Output Specifications for the Semi-Pro Plus
Prints up to 90 shirts per hour 
Average shirt cost of $1.50 - $3.00 per shirt
Average print cost of $0.05 - $0.35 per shirt
Capable of printing professional quality prints
Designed for printing smaller runs of shirts; 50-200 at one time
Capable of printing larger runs of shirts: 200-2000 at one time 
---
This Kit Includes
4 qty. - 156 mesh, 20x24" pre-stretched aluminum screens.
Laser Temp Gun for ensuring ink cure.
2 qty - 12" 70 durometer Squeegees and 2 - 8" 70 durometer Squeegees
A roll of Green Screen Block Out Tape (2"x36 Yd)
5 qty - FN Ink Plastisol Ink. (Quarts of White, Black, Red, Yellow, Green)
16x16 Platen (printing board)
16" Scoop Coater - Used for applying the emulsion to the screen
100 Pack Sheets of Econo Film (8.5x11")
300 Ultimate Ink Cards -used for cleaning screens
6 qty 10" Goop Scoops
50 Printing Pellons (25 White & 25 Black)
2 Light Safe Yellow Bulbs
---
How to Screen Print Digital Playlist
Our How to Screen Print Digital Playlist is instructed by Ryan Moor (Founder of Ryonet). We also offer free technical support with our kits, so feel free to call and talk to our staff at any time. Our How to Screen Print Digital Playlist covers everything from art set up in Photoshop, screen setup, advanced printing, clean up and more. 
---
Shipping Note:
This package ships in 6 different boxes and a pallet(freight) for the equipment. The press, flash, exposure unit, and supplies might ship from separate locations and might arrive at different times. The average delivery time in the US is usually 2-6 business days, but due to the demand of the press, there may be an additional 2-4 business days delay. This package cannot be expedited because of the weight and chemicals.

Freight Dimensions and Weight: 32X25X53  229lbs
Payment & Security
Your payment information is processed securely. We do not store credit card details nor have access to your credit card information.
Frequently Bought Together
Customer Reviews
Write a Review
Ask a Question
Filter Reviews:
press
Riley Hopkins 250
color job
charm
Flash Dryer
hands
frame
Exposure unit
money
My 4x2 Press
Just got my 4x2 silver press and in bout two days i was makin money its that simple 5 yrs ago o bought a 1 color 1 station from another company it does not compete with ryonet thx ryonet so much....
10/19/2021
Jeff C.

United States
I recommend this product
Very impressed
We bought the Riley Hopkins 250 press last year and we have been nothing short of impressed! Thanks for such a great product, we appreciate it.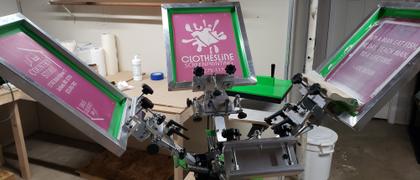 10/20/2021
ScreenPrinting.com
Hey Jeff! YAY!!! This is a rare review to receive... If you're coming back to let us know how you like it after purchasing last year, this tells us we have done something absolutely right! Thank you so much for taking the time out of your busy day to leave us this stellar review, and for showing us how you've been putting it to work Keep up the great printing, Jeff! Best, Kayli B
04/21/2021
Katie

United States
I recommend this product
Super pleased!
My kit came very well packaged and within a reasonable time frame. I've only printed a two color job on my press, but it works like a charm. Super easy to register! Hands down, the best press I've ever owned. The exposure unit works very well and the flash dryer is pretty awesome. Very well worth the money!
04/21/2021
ScreenPrinting.com
Hello and thank you for taking the time to leave a review. That is awesome to hear this kit is working out so well for you!! We really appreciate your order and look forward to assisting you again. Please let us know if you ever run into any roadblocks! Happy Printing!! :-)