Description
The Semi-Pro™ Max Screen Printing Kit combines the Riley Hopkins 250 6 color 2 stations press with more supplies and options to provide you a complete multiple color screen printing kit that can crank out some shirts! 
The 250 builds on the success of its predecessor, the Riley Jr., with major improvements. Most notable is the addition of tilted micros. The tilted micros ensures screens stay in place during production, minimizing the worries of accidentally bumping the screen out of registration mid-production. The 250 now also has locking levers, the same as the 300 press. The locking levers make it easier to tighten and loosen registration, enhancing the precision of registration while lessening the stress on your wrists. Lastly, the 250 is all black! That's right, we're back in black.
Designed with the aspiring screening printer in mind, the Semi-Pro MAX package provides you with everything you need to print fairly large quantities of 1 - 6 color t-shirt designs. Taking advantage of the second printing station allows you to print and cure shirts at the same time and cuts your production time in 1/2 when compared to a 1 station press. This fairly compact press is also easy to set up, register and can fit into almost any space requirement.
This Kit Includes:
8 qty - 156 mesh, 20x24" pre-stretched aluminum screens.
3 qty - 12" 70 durometer Squeegees
3 qty - 8" 70 durometer Squeegees
2 Rolls of Green Screen Blockout Tape (2"x36 Yd)
5 qty FN-INK™ Plastisol Inks - (Quarts of White, Black, Red, Green, and Yellow)
2 qty 16x16 Platen with Riley Hopkins Bracket (printing board)
16" Scoop Coater - Used for applying the emulsion to the screen
100 Sheets of Econo Film (8.5x11")
6 qty 10" Goop Scoop
300 Ultimate Ink Cards - used for cleaning screens
50 Printing Pellon (25 White & 25 Black) 
2 Light Safe Yellow Bulbs
Chemical Kit ( Now includes! )
---
How to Screen Print Digital Playlist
Our How to Screen Print Digital Playlist is instructed by Ryan Moor (Founder of Ryonet). We also offer free technical support with our kits, so feel free to call and talk to our staff at any time. Our How to Screen Print Digital Playlist covers everything from art set up in Photoshop, screen setup, advanced printing, clean up and more.
---
Shipping Note:
This package ships in 4-6 different packages and a freight shipment. The press, flash, exposure unit, and supplies ship from multiple locations and may arrive at different times. The average delivery time in the US is usually 2-6 business days, but due to the demand of the press, there may be an additional 2-4 day delay. This package cannot be expedited due to the weight of the kit and the chemicals in the kit.

Freight Dimensions and Weights: 37X32X64  350lbs

Payment & Security
Your payment information is processed securely. We do not store credit card details nor have access to your credit card information.
Frequently Bought Together
Customer Reviews
Write a Review
Ask a Question
Filter Reviews:
press
Ryonet
customer service
something
shirt
registration
platens
knobs
bottom
sides
08/25/2020
Boyd C.

United States
I recommend this product
Amazing press
I bought this about 3 months ago, did some tweaks to the package with the amazing help of Tala! There customer service is top notch, well built and had zero issues with this set up! Was able to pay off my press in less then 3 months due to the quantity of the press and all the Sgreen chemicals are a must!! Thanks Ryonet for all your hard work and great customer service!!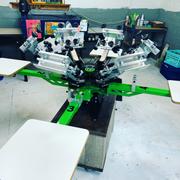 So far so good...
I've had this press for a couple months now and have printed many shirts. Once I was able to find some videos on registration, i was good to go. Ryonet has a bunch of videos, so I had to really narrow it down. I printed with an old school printer and this press was not what I was used to but I got the hang of it. Thank god for the customer service and techs!!! Ask for extra arms at the time of ordering as this is something you can't upgrade later on. Also, I wish the knobs on the bottom of the platens were a little more flush. When I put a small shirt on the platen it becomes real snug. Speaking of platens, I had to sand down the sides because the shirts were getting caught on the platens. They still do, just not as much since I sanded them. Overall, I am very pleased with my press!
GREAT FOR BEGINNERS LIKE ME!
So I've had my press for a little over a month and I must say, it is a learning curve. I trained with an "old school" printer and his press. Once I received this one, it was way different. I was very pleased that Ryonet was able to customize the press to a 4 station. There's no upgrading later on so you have to ask for that when you order. The garments are a little hard to slip on the platens. The sides are kinda rough. I sanded them down and it helped a little. The knobs on the bottom of the platens makes a small shirt a little snug. Wish they were a little more flush to the arm. The flasher needed to be leveled as it had a significant dip to the front of it. Registration is not that easy and finding the right YouTube video wasn't that easy to find either. But... I found it and it's gotten better. The customer service has been absolutely AMAZING! I've called them about 3 times, all for something different, and they are truly amazing! I gave it 4 stars instead of 5 because of the platens and the knobs. Other than that... For this being MY first press... I'm pretty darn happy...
04/03/2020
Persephane L.

United States
6 color 2 station
Love everything but a bit disappointed because I haven't received my press or my light exposure. And I'm so ready to start!!
Ryonet power house
Love it great products at a great price