Description
Are you serious about your screen printing business and craft? Are you consistently receiving large orders and multicolor jobs? Are you frustrated with your current setup because it can't keep up with your customers' demands?
If your business is becoming a large production print shop, then the Riley Hopkins 300 Plus Screen Printing Full Shop Package is for you. Getting a kit makes your life simple. You could pick and choose supplies and equipment, but that takes a lot of time. With a few clicks, you have everything you need to upgrade a print shop.
The shop package has everything you need — a press, flash dryer, exposure unit, conveyor dryer, washout booth, screens, squeegees, inks, chemicals, and more. Loaded with top-notch equipment and supplies from brands like Riley Hopkins®, Baselayr®, Sgreen®, and FN-INK™, you can count on producing high quality prints right from the start.
Investing in a shop package is an easy, economical way to revamp a screen printing business. Kick it into high gear with the Riley Hopkins 300 Plus Screen Printing Full Shop Package today.
INCLUDED IN KIT:
Ink Kit

2 gallons of white FN-INK™
2 gallons of black FN-INK™
A gallon of bright red FN-INK™
A gallon of royal blue FN-INK™
A gallon of lemon yellow FN-INK™
A gallon of golden yellow FN-INK™
A gallon of kelly green FN-INK™
A quart of navy blue FN-INK™
A quart of orange FN-INK™
A quart of violet FN-INK™
A quart of light royal blue FN-INK™
A quart of fuchsia FN-INK™
A quart of pitch black Green Galaxy Water-Based Ink
A quart of neptune blue Green Galaxy Water-Based Ink
Supply Kit

Eight Baselayr 20"x24" 110 White Mesh Aluminum Screens
Eight Baselayr 20"x24" 158 White Mesh Aluminum Screens
Eight Baselayr 20"x24" 196 Yellow Mesh Aluminum Screens
Eight Baselayr 20"x24" 230 Yellow Mesh Aluminum Screens
Six Baselayr 20"x24" 305 Yellow Mesh Aluminum Screens
Eight 12" 70 durometer squeegees
Eight 15" 70 durometer squeegees
Four 6" 70 durometer squeegees
Four 8" 70 durometer squeegees
Digital laser temperature gun
One 18" scoop coater
One 16" scoop coater
Digital scale
Pantone Color Formula Guide
1 roll of FN-INK™ 18"x100yd platen tape
6 rolls of 2"x36yd screen blockout tape
6 rolls of 2"x110yd white screen tape
300 pack of cleanup cards
100 pack of 13"x19" Baselayr Waterproof Film
Twenty 25-packs of 14"x16" black test pellons
Twenty 25-packs of 14"x16" white test pellons
15 goop scoops
4 light safe bulbs
Chemical Kit

A gallon of Baselayr Long Lasting Emulsion
A gallon of Sgreen® Supreme Wash
A gallon of Sgreen® Aqua Wash
A gallon of of Sgreen® Emulsion Stripper
A quart of Sgreen® Stuff Degreaser/Dehazer
A quart of Sgreen® Water-Based Pallet Adhesive
50 Screen Printing Towels
Expert Spot Gun and a quart of Cured Ink Remover
6 Pack of Scrub Pads + 3 Scrub Handles
PRESS FEATURES AND SPECS:
Sturdy, heavy duty, lightweight construction
XYZ Micro Registration
Adjustable Height Mechanism
2-Point Roller Gate
Lifetime Limited Warranty
Diameter: 102"
Base Size: 57"
Platen Height: 35.5" - 38.5"
Platen Size: 16"x 18"
Max Platen Size: 24" x 32"
Min Frame Size: 23" x 31"
Max Frame Size: 25" x 36"
Max Frame Size(every other): 42" x 48"
Color/ Stations: 8 color / 6 station
CONVEYOR DRYER FEATURES AND SPECS:
On/off switches for the belt, temperature, and dryer
Temperature control
Belt speed control
Vented exhaust
Adjustable gates
Belt tracking guide
Two locking casters, two rolling casters
Dry-erase panel to write down specific settings
10-foot power cord
Length: 96"
Width: 36"
Belt Width: 24"
Belt Drive Power: Single Point Power
Number of Elements: 2
Heater dimensions: 18"x24"
Chamber Length: 48"
Chamber Height: 5"
Entry/Exit Length: 24", 24"
Capacity: 300 shirts per hour
Wattage: 6500
Voltage: 240
Amps: 27
Plug Type: Nema L6-30P
FLASH DRYER FEATURES AND SPECS:
Rotating, adjustable stand
Locking casters
360° rotation
Powder-coated to prevent rust
Sturdy, simple design
10-foot power cord
Easy assembly
Watts: 2223
Volts: 120
Amps: 18.5
Heater Size: 18"x22"
Element Size: 18"x18"
Plug Type: Nema 5-20P
EXPOSURE UNIT DRYER FEATURES AND SPECS:
LED 405nm bulb technology
Digital timer for accuracy
Sturdy powder coated steel construction
EC power cord with easy access to an on/off switch
Flexible and durable rubber vacuum blanket
Heavy-duty gas shocks
Adjustable vacuum lid clamps
Optically clear, strong tempered glass
Two, light-safe T8 LED amber inspection bulbs
Oil-free vacuum pump
Includes nylon rope to allow air movement between the blanket and frame
Unit dimensions: 44"(L) x 32"(W) x 10"(H)
Optical clear, tempered glass: 31" x 38"
Max frame size OD: 23" x 31"
8 UV T8 LED 405nm tube bulbs designed for screen exposure
Two, light-safe T8 LED Amber inspection bulbs with dedicated on/off switch
UV wattage: 320 watts
Voltage: 115v
Standard 110v 3-prong plug
Timer: Digital (1/10 sec. increments)
Control Panel and timer
Time adjustment
Timer on/off
Vacuum blanket on/off
WASHOUT BOOTH FEATURES AND SPECS:
Dimensions: 33"W x 24"D x 63"H
Easy-to-add backlighting
Stainless steel basin
Aluminum siding
Rubber-protected edges
Sturdy structure
Easy cleanup
Low maintenance
Minimal space requirement
Easy to assemble
Effortless disassembly for transport
Drain size: 1-½" Female nominal pipe thread drain (AKA 1-½ NPT)
Maximum frame size is 23x31 (this will allow 4-5 inches on either side)
UTILITY CART FEATURES AND SPECS:
Holds up to 300 lbs of inks and print supplies
Made from laser-cut steel
Powder-coated black
The top is white laminate MDF
Cart includes wheels to allow easy mobility 
Dimension when assembled: 28" W x 36" D x 32" H
Fits 10: 20" x 24" or 12: 23" x 31" OD frames
Assembly required (assembly instructions, hardware, and tools are included)
FREE SHIPPING!
*within the contiguous U.S.*
This package ships in 8-10 boxes and one crate. The supplies and equipment will ship from separate locations and might arrive at different times, depending on stock.
Payment & Security
Your payment information is processed securely. We do not store credit card details nor have access to your credit card information.
Frequently Bought Together
Customer Reviews
100
reviewers would recommend this product
Write a Review
Ask a Question
Filter Reviews:
Ryonet
business
everything
products
package
experience
shop
move
family
2019
03/28/2020
Greg C.

United States
Very well curated shop package
I couldn't say enough great things about this package. We purchased early 2019 and have literally built a business to support our family around this package. Too often, when you buy things bundled together such as this, businesses will try to squeeze in the cheapest of the cheap and cut corners to increase profit margins. This would be furthest from the case here. This kit is literally everything you need to start and operate a small-mid size manual screen print shop in one package. I've tried so many variations of products from Ryonet & other distributors and honestly have found the supplies in this kit to be superior in almost every way. One thing to note, we picked up momentum much quicker than expected, if I had it to do over, I would have went ahead and got the auto ready package. We are talking about an auto for our shop now and since we didn't go ahead and get the beefier package, we'll end up having to get a larger dryer as well.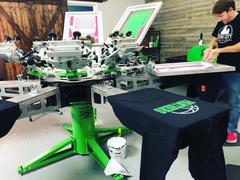 01/31/2023
Travis

United States
I recommend this product
A great experience
Everything was delivered in perfect condition and before we expected. We couldn't have asked for a better experience and we are loving the equipment. Luckily we are already swamped with more work then we can keep up with. Thank you and the whole Ryonet crew for helping us make the move to owning our own screen printing business! We hope to do much more business with you in the future.